Cocoa Flip
by Editorial Staff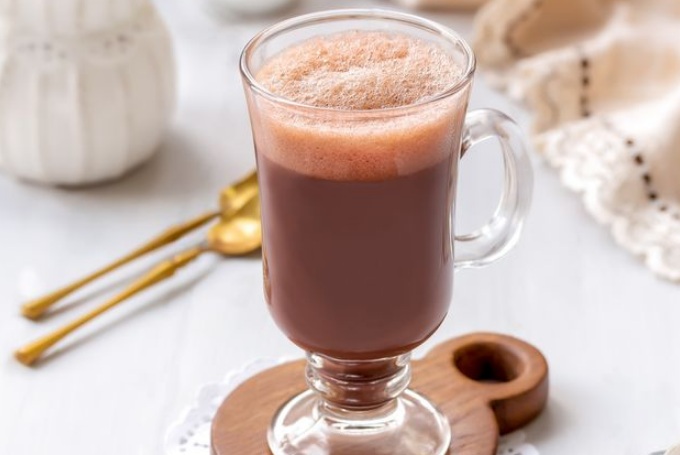 An unusual version of cocoa cooked in milk, with the addition of egg yolk. The yolk gives cocoa an appetizing thickness and allows you to get a lush layer of silky foam when whipping. Cooking takes a few minutes, and the taste conquers from the first sip. Try it!
Cook: 10 min.
Servings: 2
Ingredients
Cocoa powder – 2 tbsp (20 g)
Milk (or cream) – 150 ml
Water – 150 ml
Yolk – 1 pc.
Sugar – 45 g (3 tablespoons)
If desired, milk can be replaced with cream.
Directions
Combine sugar and egg yolk in a bowl.
Beat the mixture with a whisk or mixer for about 1-2 minutes, until whitened and fluffy.
Pour milk into a saucepan, put on medium heat, and bring to a boil. Then turn off the heat and temporarily pour the hot cream (or milk) back into the milk jug.
Pour cold water into a saucepan and add cocoa. Put on medium heat, bring the mixture to a boil and, stirring, simmer for about 1 minute.
Pour hot milk into a saucepan. Whisk the mixture for about 10-15 seconds, until lightly creamy.
Stir constantly with a whisk and add about 1 tablespoon. a spoonful of hot cocoa in an egg-sugar mixture. In this way, add about 100 ml of cocoa to the egg-sugar mixture.
Pour the mixture into the cocoa saucepan and whisk for about 30-40 seconds, until creamy.
An unusual cocoa-based drink is ready. Pour it into glasses and serve.
Also Like
Comments for "Cocoa Flip"