Coffee Pudding
by Editorial Staff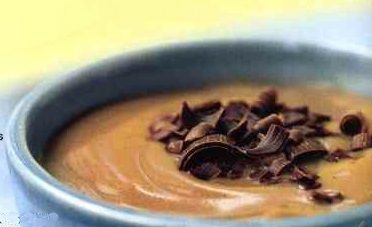 The pudding is prepared with milk and cream with the addition of instant coffee and coffee liqueur.
Ingredients
Milk – 1.75 cups
Cream 10-12% – 0.25 cups
Instant coffee in granules – 1 tbsp
Kahlua type coffee liqueur – 1 tbsp
Sugar (preferably brown) – 0.5 cups
Corn starch – 1 tbsp
Salt- 0.25 teaspoon
Egg yolks – 2 pcs.
Butter- 1 tbsp
Chocolate chips – 2 tbsp
Directions
Pour milk into a medium saucepan and bring to a boil. In a large bowl, combine sugar, starch, coffee and salt. In a separate bowl, combine the egg yolks and cream. Gradually add this mixture to dry ingredients, stir. In this mixture, gradually, stirring, add half of the hot milk. Pour this mixture into a saucepan with the remaining milk, stirring occasionally, and bring to a boil. Reduce heat, cook the pudding, stirring occasionally, until thickened, about 1 minute. Remove the pan from the stove, add butter and liquor to the pudding, stir.
Place the pudding pot in a large bowl filled with ice water and leave the coffee pudding for 15 minutes, stirring occasionally. Transfer the pudding to a bowl.
Place plastic wrap right over the top of the pudding and place the coffee pudding in the refrigerator to cool. Serve chilled coffee pudding in portioned bowls, sprinkle with chocolate chips.
Enjoy your meal!
Also Like
Comments for "Coffee Pudding"