Coffee Cake
by Editorial Staff
Making a coffee cake is not very easy, but trust me – the game is worth the candle. The cake turns out to be amazingly tasty, it is not a shame to put it on the table for the most dear guests. Luxurious cake!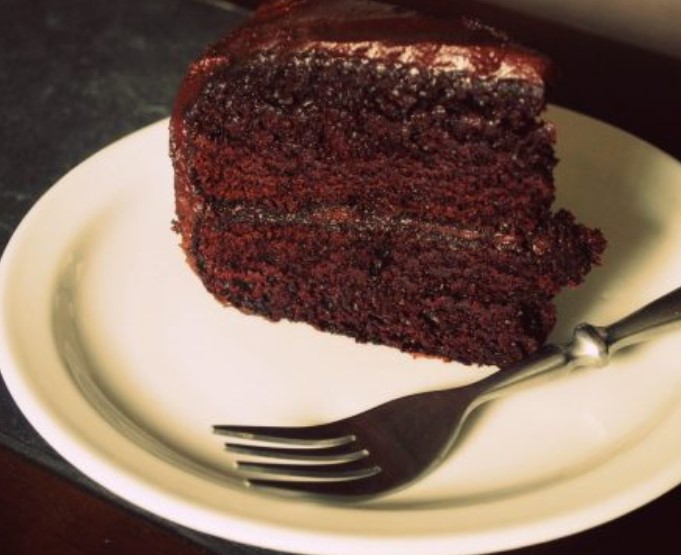 Cook: 1 hour
Servings: 8
Ingredients
Sugar – 2 Glasses
Cocoa Powder – 3/4 Cup
Baking soda – 2 Teaspoons
Baking powder – 1 teaspoon
Salt – 1 Teaspoon
Buttermilk – 1 Glass
Applesauce – 1/2 Cup (apples, grated or minced in a blender)
Eggs – 2 Pieces
Vanilla extract – 1 Teaspoon
Chocolate cream for cake – 200 gram
Directions
Cover two baking dishes with a diameter of 24 cm with parchment paper and grease with butter.
Sift dry ingredients into a large bowl: flour, sugar, cocoa, salt, baking soda and baking powder.

Stir these ingredients on a slow mixer speed.
In another container, mix the liquid ingredients: buttermilk, applesauce and eggs.
Add vanilla extract to the liquid mixture.
Whisk thoroughly.
Making a cup of coffee.
Cool the coffee to room temperature, add it to the liquid mixture. Then gently add dry in small portions into the liquid mixture. Stir until smooth.
Pour half the dough into one baking dish, half into another. We bake biscuits for a coffee cake for 35-40 minutes at 175 degrees.
Cool the finished biscuits on a wire rack.
Remove the parchment paper.
We take a biscuit, evenly distribute about a third of the chocolate cream for the cake over it.
Put the second biscuit on top. Distribute the remaining cream over the second biscuit, grease the sides of the cake with it.

We send the cake covered with cream for a couple of hours in the refrigerator, after which the coffee cake can be served.
Bon Appetit!
Also Like
Comments for "Coffee Cake"