Coffee and Chocolate Cake
by Editorial Staff
Coffee and chocolate cake will decorate any tea party.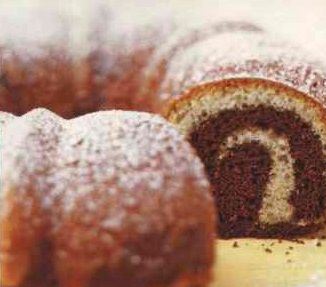 Ingredients
Buttermilk or sour milk – 1.25 cups
Sugar – 1.25 cups
Refined vegetable oil – 0.5 cups
Flour – 2.5 cups
Baking powder – 1.5 teaspoon.
Soda – 0.5 teaspoon.
Eggs (slightly beaten) – 2 pcs.
Vanilla sugar – 2 teaspoon
Cocoa powder – 1/3 cup
Instant coffee in granules – 2 tbsp
Powdered sugar for dusting
*
For impregnation:
Boiling water – 0.5 cups
Sugar – 1 tbsp
Instant coffee in granules – 2 teaspoon.
Directions
Turn on the oven to preheat to 180 degrees. Grease the muffin pan (with hole in the middle).
Pour 0.5 cups of flour into a separate bowl. In a large bowl, combine remaining flour, baking powder, baking soda and 0.25 teaspoons of salt.
In another bowl, combine the buttermilk (sour milk), sugar, vegetable oil, eggs and vanilla sugar. Add flour mixture to this mass.
In a clean bowl, mix cocoa powder and instant coffee, put half of the dough into this mixture, mix well. Mix the remaining dough with the reserved 0.5 cups of flour. Thus, we got two tests, white and dark.
Put half of the white dough into the prepared form, half of the dark dough on top, repeat the layers. Place the form with the dough in a preheated oven, bake the cake for 30-35 minutes.
Remove the finished cake from the oven, let it cool in the form for 15 minutes. Then remove from the mold and make deep punctures in the product with a wooden skewer.
Mix all the impregnating ingredients in a small bowl. Sprinkle this soak on the cake and sprinkle with the powdered sugar.
Also Like
Comments for "Coffee and Chocolate Cake"