Chocolate Coffee Cake
by Editorial Staff
Chocolate-coffee cake in vegetable oil is prepared with the addition of butter liqueur, coffee and dark chocolate. Butter glaze is prepared with the addition of coffee and butter liqueur. The finished cake has a magical coffee aroma.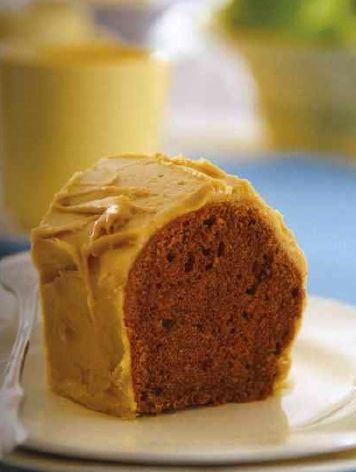 Ingredients
Chopped black chocolate – 125 g
Instant coffee – 2 tbsp
Cream liqueur – 90 g
Vegetable oil – 125 g
Large eggs (divided into yolks and whites) – 7 pcs.
Flour – 300 g
Sugar – 300 g
Baking powder – 2 teaspoon.
Salt – 0.25 teaspoon
Water – 90 g
*
For glaze:
Instant coffee – 1 tbsp
Cream liqueur – 2 tbsp
Butter (melted) – 3 tbsp
Powdered sugar – 300 g
Directions
Turn on the oven to preheat to 180 degrees. Grease and sprinkle with flour on a 26 cm long ovenproof dish.
In a separate bowl, combine flour, sugar, baking powder and salt.
In a heatproof bowl, combine chocolate, vegetable oil, liqueur, coffee granules and water. Place the bowl in a water bath, stir well, cook until the chocolate is melted.
Remove the bowl from the water bath, add the egg yolks, stirring well with a wooden spoon all the time.
Then gradually add dry ingredients, mix well.
Beat the egg whites in a dry bowl until fluffy and firm. Gently, using a spatula, introduce the proteins into the dough.
Put the dough in the prepared mold and place in the preheated oven. Bake the chocolate-coffee cake for 30-40 minutes (the readiness of the cake can be checked with a wooden stick – when piercing the cake, it must be clean).
Remove the finished chocolate-coffee cake from the oven, let it cool in the form for 15 minutes. Then take the cake out of the mold, leave on the wire rack until completely cooled.
In the meantime, prepare the icing. To do this, dissolve coffee in liqueur, mix with powdered sugar and butter, mix well.
Grease the cake with icing on all sides. You can serve your chocolate coffee cake immediately.
Also Like
Comments for "Chocolate Coffee Cake"