Chocolates with Nuts and Coffee
by Editorial Staff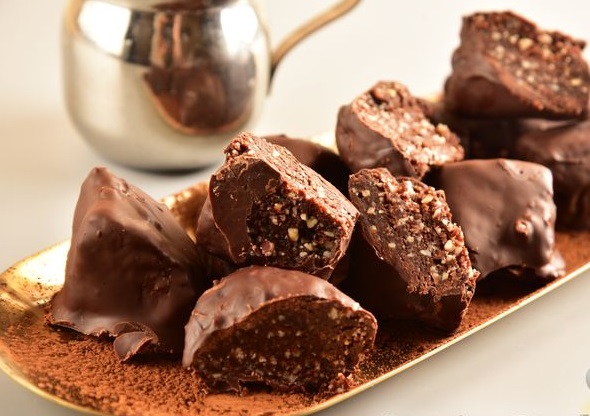 Chocolate-flavored chocolates are a great homemade treat that makes a great alternative to store-bought chocolates.
Ingredients
Black or milk chocolate – 200 g
Powdered sugar – 100 g
Peeled nuts (I have peanuts) – 100 g
Ground coffee – 2 teaspoon
Water (boiling water) – 100 ml
Directions
Prepare ingredients.
Peanuts can be replaced with any other nuts, but they must be peeled.
Chocolate can be used in black or milk. In short, fantasize and experiment as you please!

If the nuts are raw, they must be dried in a pan for a few minutes until golden brown and cooled.
Place the nuts in a blender bowl.
Grind the nuts into very fine crumbs. I like pieces of nuts to be felt in sweets, so I chopped 40 g into small crumbs and brought the remaining 60 g almost to a pasty state.
Pour boiling water over the ground coffee. Measure out 2 tbsp of brewed coffee.
Break the chocolate into pieces, put it in a bowl.
Melt the chocolate in a water bath by placing the bowl of chocolate in another bowl of slowly boiling water.
Combine nuts with powdered sugar, coffee, and half-melted chocolate.
Mix well
Roll a tourniquet from the resulting mass.
Cut the tourniquet into small pieces and place it in the freezer for 20-30 minutes.
Dip each candy in the remaining melted chocolate and refrigerate for at least 60 minutes.
Also Like
Comments for "Chocolates with Nuts and Coffee"