Curd Cake with Bananas
by Editorial Staff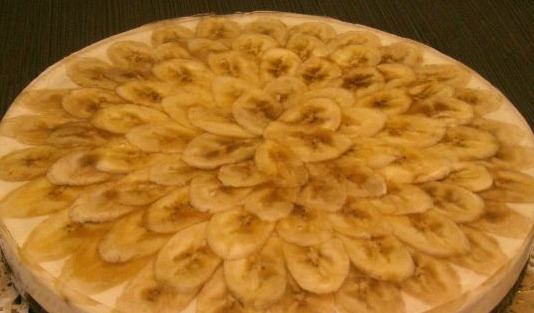 Picking up a dessert for New Year's table 2021? This cake does not need to be baked. Its bottom crust is made of biscuits, and the top two are soft jelly. The recipe perfectly answers the question of what to cook for the new year 2021!
Ingredients
Little cookies – 300 g
Chocolate – 100 g
Butter – 100-150 g
Cottage cheese – 600 g
Sour cream – 400 ml
Sugar – 1-1.5 cups
Gelatin – 30-50 g
Water – 100 ml
Bananas – 4-5 pcs.
Jelly for cake – 1 sachet
Directions
Crumble the cookies into small crumbs.
Cool and grate chocolate
Mix cookies and chocolate.
Melt the butter.
Pour the hot oil into the biscuit and chocolate mixture. Knead the resulting dough thoroughly.
Put half or a little more of the dough on the bottom of a split form, with a diameter of 26-28 cm. Place in the refrigerator

Form bars or balls from the rest of the mass. Put in the refrigerator.

Soak gelatin in intensely warm water according to the instructions. Then put a container with gelatin in a bowl of hot water (boiling water) – so it will completely dissolve.
Mix sour cream with sugar. Stir until the sugar is completely dissolved.
Grind the curd with a blender until smooth.
Add sour cream and gelatin, continue to beat with a blender for another 5 minutes.
Peel three bananas.
Pour a thin layer of jelly onto the chilled cake. Layout the bananas.
Fill the remaining space with chocolate chip cookies.
Pour the remaining sour cream jelly. Refrigerate for 4-5 hours.
Decorate the cake. To do this, peel another 1-2 bananas and cut them into thin slices. Layout the pattern from the banana slices. Dilute the clear cake jelly as directed on the package. Pour prepared bananas with this jelly. Refrigerate for 1 hour.
Remove the cake from the springform pan and serve.
Bon Appetit!
Also Like
Comments for "Curd Cake with Bananas"