Curd Dessert with Nuts and Dates
by Editorial Staff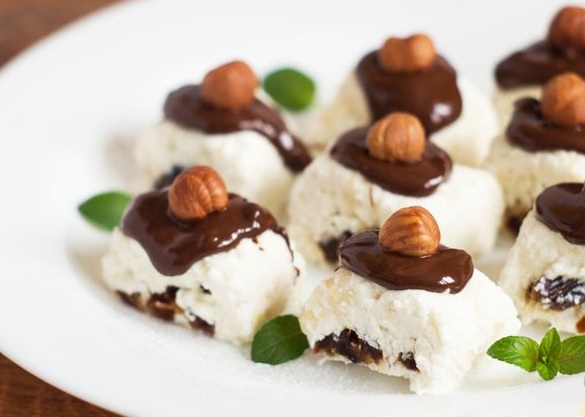 Delicate dessert made from soft cottage cheese with the addition of dates and chopped hazelnuts. If you decorate such cottage cheese sweets with chocolate, hazelnuts, and mint leaves, you get a completely festive treat. Undoubtedly a delicious and healthy dessert!
Ingredients
Cottage cheese – 200 g
Hazelnuts – 10-20 g
Dates – 5-6 pcs.
Sour cream – 1 tbsp
Powdered sugar – 1 tbsp
Coconut flakes – 1 tbsp
White sesame – 1/2 tbsp
Hazelnuts – by the number of sweets
Milk chocolate – to taste
Powdered sugar – to taste
Mint or lemon balm – 1 sprig
Directions
Prepare the food you need.

Mash the cottage cheese with a fork, add the icing sugar and sour cream. Mix thoroughly.
Cover the cutting board with cling film, sprinkle evenly with coconut and sesame seeds.
Put the curd mass in small portions. Use a tablespoon or fork to smooth the mixture into one layer. I got a layer of 22×10 cm in size and about 6-7 mm thick.
Pitted the dates and cut them into thin strips. Line a strip of dates back out slightly.
Finely chop the hazelnuts and place them on top of the dates.
Raising the edges of the film, gently roll the curd layer into a roll. Refrigerate for 20-30 minutes.
Take the rollout of the refrigerator and remove the film. Cut the roll into portions.
Decorate the finished curd dessert to your liking.
I sprinkled the dessert with powdered sugar, poured melted chocolate on each piece of dessert, supplemented with whole hazelnuts, as well as mint leaves.
Curd dessert with nuts and dates is ready to serve.
Enjoy your meal!
Also Like
Comments for "Curd Dessert with Nuts and Dates"