Curry Rice with Carrots
by Editorial Staff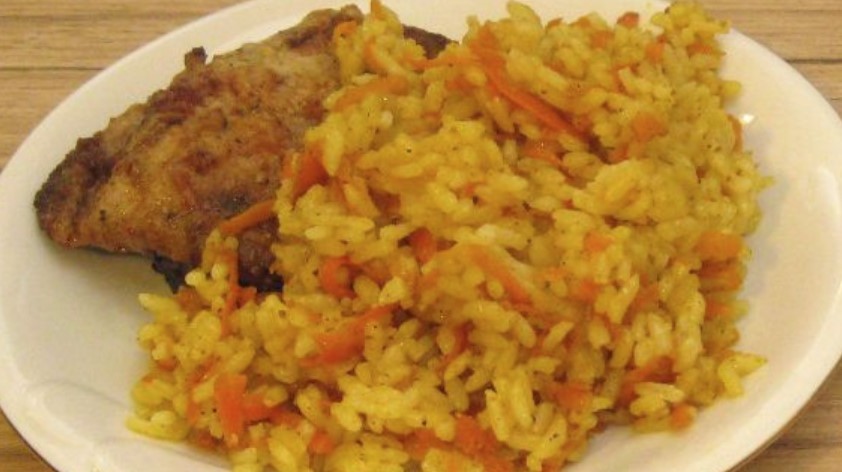 Spicy sunny rice is an excellent side dish for chicken or fish.
Ingredients
Rice – 1 glass
Water – 2.5 cups
Salt – 0.5-1 teaspoon
Carrots – 1-2 pcs.
Garlic – 1-2 cloves
Vegetable oil – 4 tbsp
Curry – 1-1.5 teaspoon
How to make curry rice with carrots:
Directions
Heat vegetable oil in a saucepan (2 tablespoons). Put the rice, stir it and fry in oil over medium heat for 10 minutes.
Then pour water, salt, close the lid, reduce heat to low, and cook for 20 minutes. Do not stir!
Peel, wash, and grate carrots. For a more uniform structure of the finished dish, you can grate the carrots on a fine grater.
Peel and chop the garlic.
Take a pan of such a size so that boiled rice can also fit in it later. Heat 2 tablespoon in a frying pan. tablespoons of vegetable oil. Put the carrots, stir and fry over medium heat for 5 minutes. Add the garlic, stir and fry it with the carrots for another 5 minutes.
Sprinkle the curry powder over the carrots and stir. Cook for another 3 minutes.
Remove the cooked rice from heat.
Transfer the rice to the carrots, stir. Cover with a lid, remove from heat, and leave the rice with carrots for 10 minutes to "reach".

Serve carrot curry rice with chicken or fish.
Enjoy your meal.
Also Like
Comments for "Curry Rice with Carrots"