Draniki with Sausages
by Editorial Staff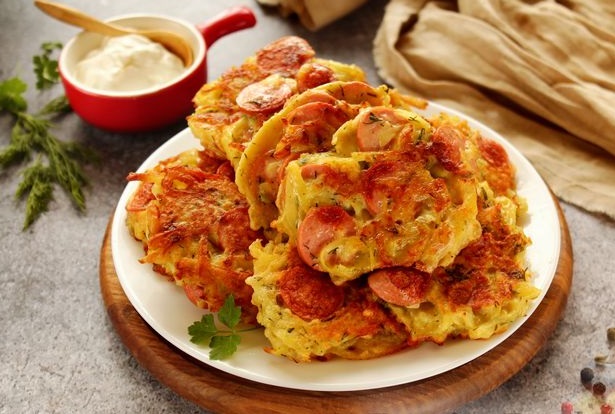 A curious recipe for potato pancakes (pancakes) loved by many. This time we are preparing potato pancakes with sausages. Even tastier, even more satisfying!
Ingredients
Potatoes – 500 g
Milk sausages – 120 g
Eggs – 2 pcs.
Onions – 70 g
Flour – 25 g
Fresh dill – 20 g
Vegetable oil – 50 g
Salt to taste
Freshly ground pepper – to taste
Sour cream – to taste
Fresh greens – to taste
Directions
Prepare food.

Chop the onions very finely or use a chopper with a knife attachment.
Grate the peeled potato tubers on a coarse grater.
Mix potatoes with onions, add sausages, cut into thin (about 3 mm) circles.
Add eggs and finely chopped dill.
Season with salt and pepper. Add flour and mix everything thoroughly.
Put the potato mass in hot vegetable oil for 1.5-2 tbsp, forming potato pancakes.
Fry the pancakes for 3-4 minutes on each side.

Serve mouth-watering potato pancakes with hot or warm sausages, fresh herbs and sour cream.
Enjoy your meal!
Also Like
Comments for "Draniki with Sausages"