Egg in a Tomato, French
by Editorial Staff
We offer you a recipe for an original French dish – an egg in a tomato. A tomato with an egg inside is baked in the oven.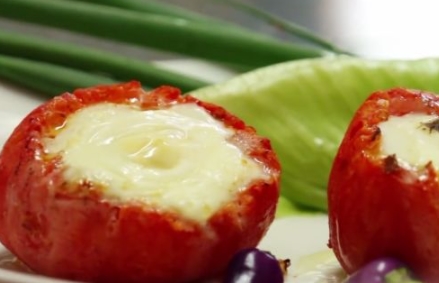 Ingredients
Tomatoes – 4 pcs.
Chicken eggs – 4 pcs.
Butter – 4 g
Salt to taste
Ground black pepper – to taste
Directions
Cut off the tops of four ripe but dense tomatoes and pour boiling water for 2-3 minutes.

After 2-3 minutes, easily remove the skin and remove the pulp from the tomatoes. Add each tomato and pepper it inside. Add one gram of butter each.

Break one egg into the prepared tomatoes, add a little salt and pepper.
We send tomatoes with an egg to a preheated oven.
We bake eggs in tomatoes in the oven at 200 degrees for about 12 minutes.

Gently transfer the finished baked tomatoes with an egg onto a dish and serve hot to the table.
Enjoy your meal!
Also Like
Comments for "Egg in a Tomato, French"