French Toast with Sausage, Mushrooms and Tomatoes
by Editorial Staff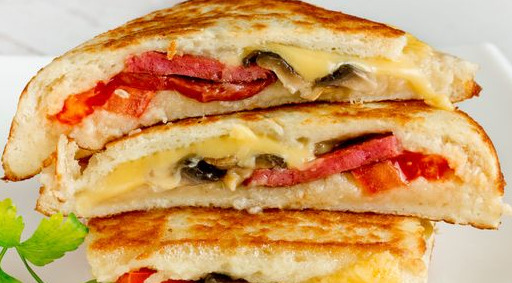 The English Style French Toast Recipe is the perfect breakfast or snack for the whole family! Pieces of toast bread stuffed with sausage, mushrooms, cheese, and tomato, fried in an egg mixture – it's so delicious!
Cook: 15 minutes
Servings: 2
Ingredients
Toast bread – 4 slices
Milk – 80 ml
Egg – 1 pc.
Salt – 1 pinch
Sunflower oil (for frying) – 30 ml

For filling:

Sausage – 40 g
Hard cheese – 30 g
Champignons – 2 pcs.
Tomato – 1/2 pc.
Directions
Cut the crusts from slices of bread.
Now roll the pieces of bread lightly with a rolling pin to increase the area and make the bread thinner and denser.
Remove the skin from the mushroom caps. Cut two sausage slices in half.
In a skillet, heat some sunflower oil and lightly fry the mushroom and sausage slices on both sides over medium heat.
Cut half the tomato into slices. Cut the cheese into thin rectangular slices.
Place slices of cheese, mushrooms, sausage, and tomato overlapping on two out of four bread slices.

Cover the stuffed bread slices with the remaining bread slices to form a sandwich.
Shake the egg with milk and salt.
Dip each sandwich into the egg mixture and immediately place in a skillet with heated sunflower oil.
Toast the French toast with sausage, mushrooms, and tomatoes over medium heat until golden brown on both sides.
Enjoy your meal!
Also Like
Comments for "French Toast with Sausage, Mushrooms and Tomatoes"