French Toast with Cheese
by Editorial Staff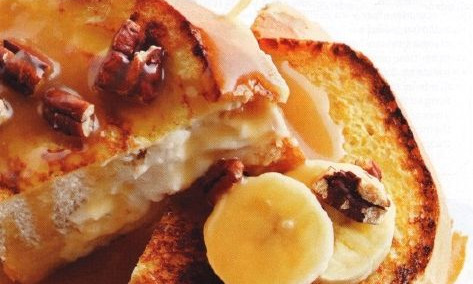 French toast can be simply soaked in milk and fried in a pan, or you can stuff slices of a loaf with cheese, and also fry until golden brown.
Servings: 4
Ingredients
Loaf or wicker loaf – 4 slices 3 cm thick
Cream cheese – 120 g
Sugar – 2 tbsp
Eggs – 4 pcs.
Milk – 1 glass
Honey – 2 tbsp
Vanilla extract – 0.5 teaspoon + 1 teaspoon

For the caramel sauce:

Brown sugar – 0.75 cups
Fat cream – 0.5 cups
Butter – 100 g
Corn syrup – 2 tbsp
Vanilla extract – 1 teaspoon
Salt – 0.5 teaspoon.
Serving bananas (optional)
Serving nuts (optional)
Directions
Prepare caramel sauce. Put a small saucepan over medium heat, add brown sugar, cream, syrup, and butter. While stirring, bring the mixture to a boil over medium-high heat. Reduce heat, simmer for 3 minutes. Remove the saucepan from the stove, add vanilla and salt to the sauce, stir, cover, and set aside.
In each slice of bread, make a deep cut-pocket, but not completely cutting it.
Prepare the filling. In a small bowl, beat the cream cheese on medium speed for 30 seconds. Add 2 tablespoons of sugar and 0.5 teaspoons of vanilla. Beat until smooth.
Place the cream cheese in the bread pockets.
Place the stuffed bread slices in a large deep bowl and set them aside.
In a small bowl, beat eggs, milk, honey, and 1 teaspoon vanilla. Pour bread with this mass. Press down on the slices until they are completely immersed in the milk. Cover and place the bread in the refrigerator for at least 1 hour, preferably overnight, turning the slices a couple of times.
Fry toasts in a skillet until golden brown.
Serve toast with caramel sauce, you can also serve with bananas and nuts (optional).
Enjoy your meal!
Also Like
Comments for "French Toast with Cheese"