French Toast with Berries
by Editorial Staff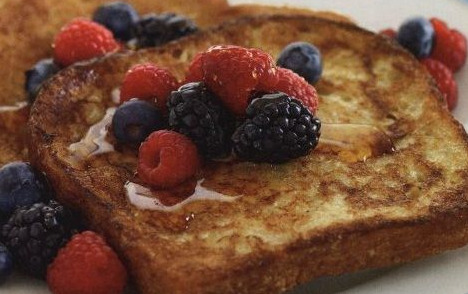 With the advent of the "berry" season, "berry" breakfasts come to my family, here is one of the such healthy and tasty breakfasts. And also, I recently found out that our favorite toasts are called French, it's nice to have a French breakfast 🙂
Cook: 25 minutes
Servings: 4
Ingredients
Egg whites – 2 pcs.
Egg – 1 pc.
Milk – 3/4 cup
Vanilla extract – 1/4 teaspoon
Salt to taste
Butter – 2 teaspoon
Whole grain bread slices – 8 pcs.
Berries, honey, syrup (optional)
How to make French toast:
Directions
Turn on the oven to preheat to 100 degrees. In a bowl, lightly beat the egg, whites, vanilla extract, milk, and about 1/8 teaspoon of salt.
Heat 1 teaspoon butter in a small skillet over medium heat. Take slices of bread one at a time and first dip from all sides into an egg beaten with milk, pressing down with your hands, and then spread them into a preheated frying pan. Spread out as much as possible and fry the French toast until golden brown, about 3-4 minutes on each side. Transfer the fried toast to a plate and add the remaining butter to the pan and fry the remaining slices of bread in the batter. The first portion of toast should be kept in a warm oven to keep it warm while waiting for the rest.
Enjoy your meal!
Also Like
Comments for "French Toast with Berries"