French Toast with Blueberries
by Editorial Staff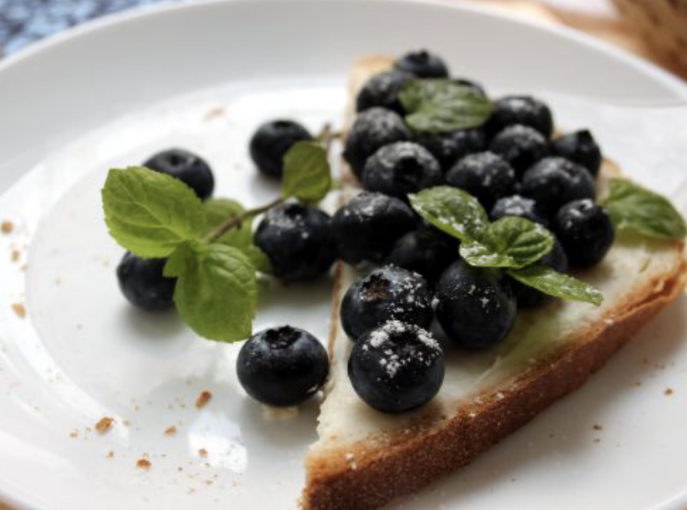 French housewives prefer to spend little time in the kitchen. At the same time, they succeed in beautiful and exquisitely tasty dishes. For example, French toast with blueberries, cream cheese, and fresh mint can be made in minutes. For a summer breakfast – the best option.
Ingredients
Blueberries – 120 g
Wheat bread (molded) – 2 pieces
Sugar – 40-50 g (to taste)
Butter – 35 g
Creamy curd cheese – 35 g
Fresh mint – 8 g
Powdered sugar – 5 g
Directions
It is better if all the products for French toast are immediately at hand. Blueberries need to be sorted out, removing the branches, rinsed; mint – to clean from dirt.

Melt half the butter in a frying pan. After waiting for the hiss, lay out the slices of bread – fry on both sides, until crusty (about 2 minutes). Sprinkle with sugar on top.
Spread curd cheese on top of the sugar, spreading it on the uncooled bread in an even layer.
Cut the toasts diagonally, in the shape of triangles, layout the whole berries, in approximately equal parts.
Decorating fruit sandwiches with fresh mint.
Finishing cooking, sprinkle the toast with powdered sugar.
Toasts with cream cheese and blueberries are ready. The light dessert goes well with tea, latte, coffee, or fruit juice.
Enjoy your meal!
Also Like
Comments for "French Toast with Blueberries"