French Toast
by Editorial Staff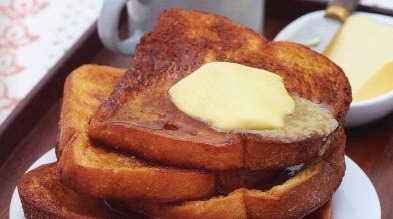 These French toasts have many adherents. Ruddy toast-croutons for breakfast are what you need.
Servings: 6
Ingredients
White toast bread (yesterday's) – 12 slices
Eggs – 6 pcs.
Milk – 3/4 cup
Ground cinnamon – 1/4 teaspoon
Butter – 4 tbsp
Sunflower oil – 1 / 2-1 tbsp
Salt to taste
Maple syrup for serving
Butter for serving
Directions
Break the eggs into a large bowl, add milk, cinnamon, and a little salt, beat with a whisk.
Place the slices of bread in the beaten eggs, press down to drown in the liquid. Leave the bread slices in this position for 2-3 minutes so that they are completely saturated with the eggs, turning occasionally.
In a large skillet, heat 2 tablespoons butter with 1/2 tablespoon sunflower oil. Put slices of bread (as much as possible) on a preheated pan, fry for about 2-3 minutes. Then turn the bread over and fry until golden brown. Fry all the bread in this way. Serve hot French toast with a little butter and maple syrup.
Enjoy your meal!
Also Like
Comments for "French Toast"