French Toast with Cinnamon
by Editorial Staff
Recipe for making aromatic baked French toast with cinnamon.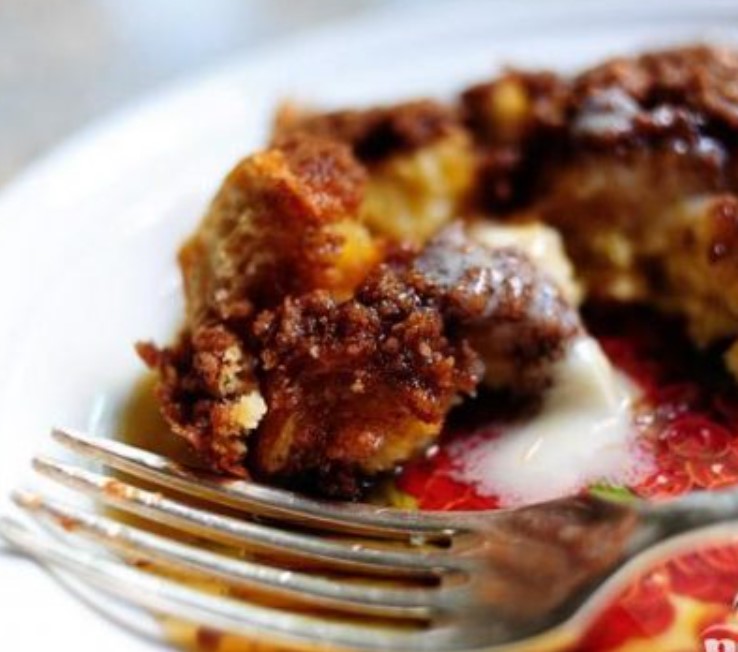 Cook: 1 hour 15 mins
Servings: 12
Ingredients
French bread – 1 Piece
Eggs – 8 Pieces
Whole Milk – 2 Glasses
Vanilla – 2 Art. spoons
Flour – 1/2 Cup
Cinnamon – 1 Teaspoon
Salt – 1/4 Teaspoon
Cold butter stick – 1 Piece
Directions
Grease a baking sheet with butter. Break the bread into pieces (or cut into cubes) and spread evenly in a baking dish.
Mix eggs, milk, cream, sugar and vanilla. Pour the mixture evenly over the bread. Cap tightly and refrigerate for several hours or overnight.
In a separate bowl, combine flour, brown sugar, cinnamon and salt. Add nutmeg if needed. Add chilled butter, cut into pieces, and stir until mixture resembles crumbs. Store the mixture in the refrigerator.
Before cooking, preheat the oven to 175 degrees. Sprinkle the bread and milk mixture evenly with the flour crumbs. If using fruits or berries, place them on top of the crumbs

Bake French toast for 45 minutes – 1 hour until tender. Cut toast into slices, top with a lump of butter or drizzle with maple syrup and serve immediately.
Bon appetit!
Also Like
Comments for "French Toast with Cinnamon"