French Toast with Apples and Sausage
by Editorial Staff
Recipe for making French toast from wheat bread with cinnamon in the form of cups stuffed with apples, sausage, cinnamon and nutmeg.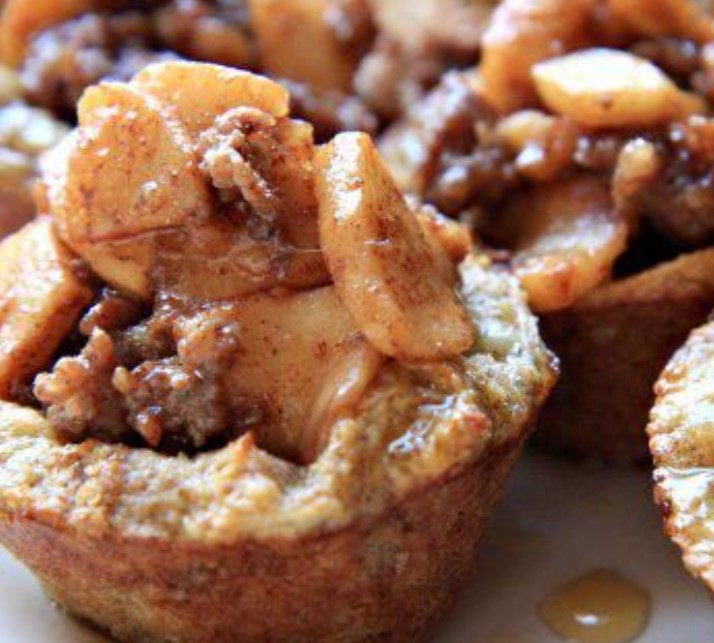 Cook: 30 mins
Servings: 8
Ingredients
Wheat Bread – 6 Slices
Eggs – 3 Pieces
Brown sugar – 1 Tbsp. the spoon
Cinnamon – 1/2 Teaspoon
Nutmeg – 1 Pinch
Filling: apples – 1 Glass
sausages – 240 Grams
Brown Sugar – 3 Teaspoons
Cinnamon – 1 Teaspoon
Nutmeg – 1 Pinch
Vanilla extract – 1/2 Teaspoon
Directions
Preheat oven to 200 degrees and oil a muffin dish. Using a cutter or round shape, cut out circles from slices of bread, about 7.5 cm in diameter. Whisk eggs, cinnamon, and nutmeg together in a medium bowl. Dip mugs of bread into the egg mixture, shaking off excess. Place the slices of bread in the compartments of the muffin pan, pressing them to the surface to form a cup. Bake the toast in a preheated oven for 12 to 15 minutes, until brown.
While the French toast is baking, prepare the filling. Dice the apples. Melt the butter in a medium skillet, stir in the brown sugar, cinnamon, nutmeg and vanilla. Add the apples to the sugar mixture and fry until the apples begin to soften and caramelize. Add the sausage and stir in the apples.

When the French toast is ready, let it cool for a few minutes, then use a knife to remove it from the mold. Fill cups with cooked filling, drizzle with maple syrup and serve.
Bon appetit!
Also Like
Comments for "French Toast with Apples and Sausage"