Finnish Herring Potatoes
by Editorial Staff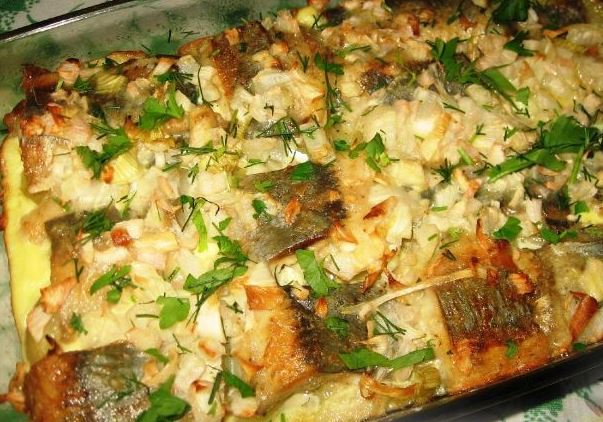 A very simple and hearty dish with a difficult to pronounce name "kalallaatiko". I made my own small changes to this recipe. I added spices and, before baking the potatoes in the oven, I boiled them almost until tender. Then the dish cooks faster.
Ingredients
Frozen or fresh herring – 2 pcs.
Potatoes – 800 g
Bulb onions – 2 pcs.
Milk – 150 ml
Eggs – 3 pcs.
Flour – 3 tbsp
Vegetable oil – 5 tbsp
Fish spices (no salt)
Basil dry
Salt
Ground black pepper
Parsley – 2 sprigs
Dill greens – 2 sprigs
Directions
First of all, cut the herring into fillets. Gut, peel off, and remove the ridge with bones.

The potatoes can be boiled in their skins and then peeled. It is better to boil young potatoes already peeled. The main thing is not to boil it down. As soon as a wooden skewer can pierce the potatoes, turn off the heat and drain the water.
Cut the potatoes into not thin slices, place them in "tiles" on the bottom of a greased baking sheet. Season with salt and pepper, sprinkle with dry basil.
Cut the prepared herring into pieces, add salt, pepper, sprinkle with seasoning.
Dip the fish in flour and place it on top of the potatoes. Finely chop the onion and sprinkle with herring on top. Pour with oil and place in an oven preheated to 180 degrees for 30 minutes. Beat eggs with milk.

Pour the milk and egg mixture over the herring potatoes. Increase the temperature in the oven to 200 degrees and bake until golden brown (15-20 minutes).

Sprinkle the finished dish with herbs and serve hot.
Enjoy your meal!
Also Like
Comments for "Finnish Herring Potatoes"