Fish Fried in a Cheese Crust
by Editorial Staff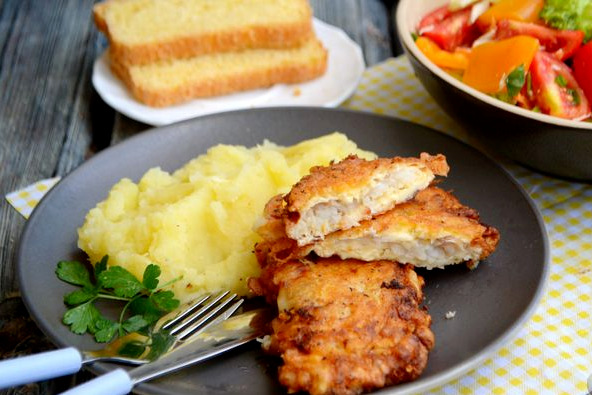 A simple and tasty dish – fried sea fish with a hard cheese crust. Rub the cheese on a coarse grater, mix with an egg, cover the fish pieces in flour with this mixture and fry in a pan. The cheese crust retains all the juiciness of the fish fillet during frying and gives a more interesting taste.
Cook: 50 minutes
Servings: 8
Ingredients
Sea fish (fillet) – 600 g
Hard cheese – 100 g
Eggs – 2-3 pcs.
Wheat flour – 4 tbsp
Butter – 25 g
Vegetable oil – 75 ml
Lemon juice – 1 tbsp
Soy sauce – 1 tbsp
Salt – 1/5 teaspoon
Ground black pepper – 1/5 teaspoon (to taste_
Dried Provencal herbs – 0.5 teaspoon
Directions
Cut the fish into large pieces (I divided the fillet into 4 pieces).

Place the fish pieces in a bowl, add lemon juice, soy sauce, provencal herbs, salt, and black pepper.
Leave the fish to marinate in the refrigerator for 20-25 minutes.
For the batter, pour the sifted wheat flour into one bowl, beat the eggs into the other.
Grate the hard cheese on a coarse grater. Spread the eggs with a fork and add cheese to them.
Heat a mixture of vegetables (I used refined sunflower) and butter in a frying pan.
Remove the pieces of fish fillet from the marinade and roll in flour on all sides.
Then transfer the fish fillets to a bowl of eggs and cheese and dip. The fish should be covered with cheese on all sides.
Place the fish in a skillet with heated oil and fry over medium heat for 4-5 minutes.
Turn over and fry the fish for another 3-4 minutes on the other side.
Transfer the fried pieces of fish to a paper towel so that the paper absorbs the excess fat.
From this amount of ingredients, a whole saucepan of delicious fish, fried in a cheese crust, turned out.

Serve this fish with mashed potatoes and fresh vegetable salad.
Enjoy your meal!
Also Like
Comments for "Fish Fried in a Cheese Crust"