Fish Fried in Batter with Fried Potatoes
by Editorial Staff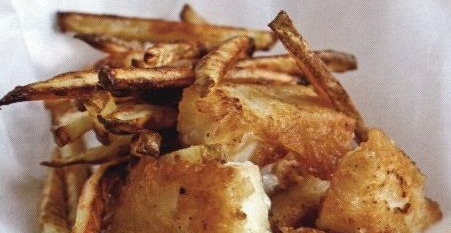 Pieces of fish in the batter are served with fried potatoes.
Ingredients
Cod fillet (cut into 7.5 cm pieces) – 450 g
Dark beer – 1 glass
Potatoes (cut into thin strips) – 450 g
Vegetable oil (for baking sheet)
Odorless vegetable oil – 1/4 cup
Salt – 3/4 teaspoon.
Flour – 3/4 cup
Ground black pepper – 1/2 teaspoon.
Directions
Fold the pieces of fish into a small bowl and pour in 1/4 cup of beer. Cover the bowl and refrigerate for 1 hour.
Turn on the oven to preheat to 220 degrees.
Sprinkle (or grease) a large baking sheet with vegetable oil. Put the potatoes on an oiled baking sheet in one layer. Drizzle 1 tablespoon of potatoes with unscented vegetable oil. Sprinkle potatoes with 1/4 teaspoon of salt and mix well. Place the baking sheet in a preheated oven and fry the potatoes for 20 minutes, stir once.
Remove the fish from the beer, drain. Sprinkle fillets with 1/4 teaspoon of salt.
In a medium bowl, combine flour, remaining beer, and 1/2 teaspoon of ground black pepper and stir until smooth.
Put the pieces of fish in the batter, mix well. In a large skillet over medium-high heat, heat the remaining 3 tablespoons of unscented oil. Remove the fish from the batter, lightly shake off the dough and put the fillet pieces in a preheated pan, cook for about 3 minutes on each side. Sprinkle fish with 1/4 teaspoon of salt and serve immediately with the fried potatoes.
Enjoy your meal!
Also Like
Comments for "Fish Fried in Batter with Fried Potatoes"