Fish with Tomatoes, Onions and Potatoes
by Editorial Staff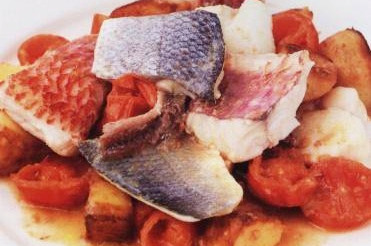 Healthy and tasty sea fish (interestingly different types) are prepared with vegetables and white wine. Canned anchovies are used as a flavoring additive. These small fish (relatives of the herring) are very popular for their habitat – in the Mediterranean, and we are just getting used to them.
Servings: 8
Ingredients
Olive oil – 3 tbsp
Large potatoes, cut into pieces – 5 pcs.
Sea salt
Ground black pepper
Garlic, finely chopped – 4 cloves
Parsley, finely chopped – 1 small
Cherry tomatoes – 550 g
White wine, dry – 1 ½ cup
Sea fish, dense, of various types (sea bass, haddock, mullet, etc.), cut into small pieces – 700g
Canned anchovy fillet (in oil) – 16 pcs.
Directions
Heat oil in a large, heavy skillet. Add potatoes and sprinkle with salt and pepper. Fry for 10-15 minutes, stirring often, until golden brown. Reduce heat, stir in garlic, parsley and cook for a few seconds before adding tomatoes.
Cook for a few minutes to soften the tomatoes, turn up the heat, add the wine and simmer for a few minutes to evaporate the alcohol. Reduce heat, add fish, anchovies, cover, and cook for 10-15 minutes. Serve the fish with a green salad and fresh bread.
Enjoy your meal!
Also Like
Comments for "Fish with Tomatoes, Onions and Potatoes"