Fried Beef Shurpa
by Editorial Staff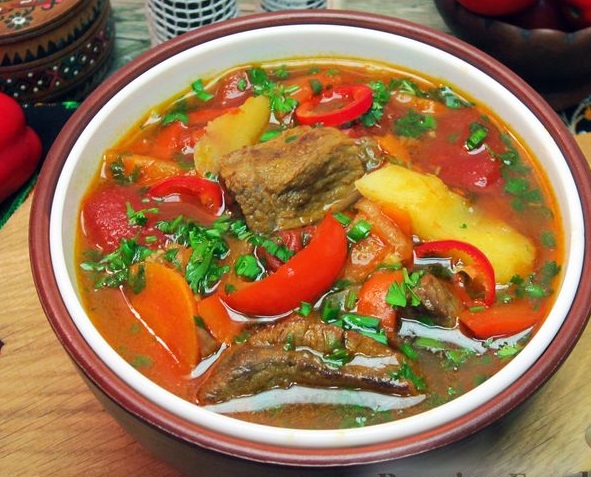 Among the variety of recipes for this oriental dish, I especially liked this method of preparation. In fried shurpa, meat and vegetables are pre-fried, which perfectly reveals their taste and transfers it to the broth. Thanks to this, fried shurpa turns out to be very rich and aromatic. And replacing mutton, traditional for this dish, with beef does not spoil its taste in any way.
Ingredients
Beef – 400 g
Sweet pepper (Bulgarian) – 270 g
Hot pepper – 1 / 4-1 / 2 pcs. (taste)
Fresh tomatoes or in their own juice – 250 g
Potatoes – 400 g
Carrots – 150 g
Onions – 120 g
Vegetable oil – 50 ml
Sugar – 1 teaspoon
Tomato paste – 2 teaspoon
Fresh parsley – 15-20 g
Zira – 0.5 teaspoon
Garlic – 2-3 cloves
Garlic greens – 10 g
Water – 1.2 l
Salt to taste
Ground black pepper – to taste
Directions
We prepare the necessary products.

Cut the beef into medium pieces.
Peel the onions and carrots. Cut the onion into feathers, and the carrots into half rings.
In a cauldron or in a frying pan, thoroughly heat the vegetable oil.
We spread the meat and fry for about 3-5 minutes until golden brown.
Add onions and carrots to the meat.
Fry the meat with onions and carrots for about 5 minutes until the vegetables are browned.
Add 300 ml of water, salt to vegetables and meat and simmer under a lid for 30 minutes.
If the beef is not young, then simmer for a longer time – about 1 hour.
At the end of extinguishing (if there is the liquid left), open the lid, increase the heat and continue cooking for another 5-10 minutes until the liquid has completely evaporated.
Peel the bell peppers from seeds and cut them into cubes.
Chop the garlic with a knife, cut the hot pepper into rings.
Add bell pepper, hot pepper, and garlic to the pan with the meat.
Fry everything together for about 5 minutes until the pepper is lightly browned.
Peel the potatoes and cut them into large cubes.
We make a cross-shaped incision on the tomatoes on top, then put them in boiling water for 1 minute, take out and remove the skin. After that, cut the tomatoes into slices.
Add potatoes to a pan with meat and vegetables. Mix everything and fry for another 2-3 minutes.

Now add the tomatoes, tomato paste, and sugar.
While stirring, fry for another 2-3 minutes.
If vegetables and meat were cooked in a pan, then we transfer them to a saucepan, and if in a cauldron, we leave everything in the same place.
We fill everything with hot water, let it boil, add salt to taste.
Cook the shurpa under the lid over low heat for 30-50 minutes until the potatoes are soft. In an acidic environment, potatoes will take longer to cook (boil) than usual.
Chop the garlic and parsley. Some greens can be left to decorate the dish. Lightly grind the Zira for a more pronounced aroma (you can do this on a cutting board with a rolling pin for dough).
Add parsley, greens of garlic, and cumin into the finished shurpa. Cover everything with a lid and leave for 10 minutes.
Pour shurpa in portions, each portion can be additionally sprinkled with fresh herbs. Bon Appetit!
Also Like
Comments for "Fried Beef Shurpa"