Frittata with Macaroni, Cheese and Smoked Meats
by Editorial Staff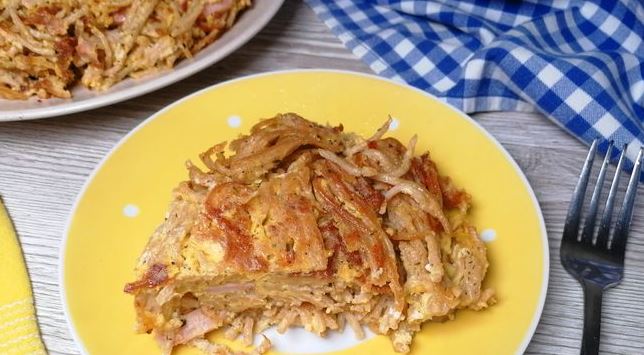 An appetizing and easy-to-prepare dish – macaroni frittata with cheese and smoked meats – greetings from Italian (Neapolitan) cuisine. The perfect breakfast, light lunch, or dinner for your family. It's easy to prepare, and thanks to your favorite ingredients, the taste of the finished dish can be guessed with ease.
Cook: 40 minutes
Servings: 5
Ingredients
Pasta (dry) – 100 g or boiled pasta – about 250 g
Eggs – 4 pcs.
Hard cheese – 80 g
Soft cheese (mozzarella) – 80 g
Ham (or bacon) – 150 g
Dried Provencal herbs – 1 teaspoon
Salt to taste
Ground black pepper – to taste
Vegetable oil – 3 tbsp
Directions
Boil pasta in advance (any, I have – spaghetti) in a large amount of salted water, according to the instructions on the package. Add 1-2 tablespoon to the finished pasta. tablespoons of vegetable oil and mix so that they do not stick together. You can use yesterday's pasta. We prepare the rest of the ingredients.

Cut the ham into cubes. We rub two types of cheese on a coarse grater. We break eggs for pasta. We mix. Add cheese and ham to the pasta. Salt and pepper to taste. We mix.

Preheat the pan with the remaining vegetable oil. We spread the pasta in a preheated pan, evenly distribute and cook for 7-10 minutes until a crust forms from below.
Using a plate, which we put on top of the frittata, carefully turn the dish over. We also cook on the other side for 7-10 minutes.
Pasta frittata with cheese and smoked meats are ready.
Enjoy your meal!
Also Like
Comments for "Frittata with Macaroni, Cheese and Smoked Meats"