Grape Jam
by Editorial Staff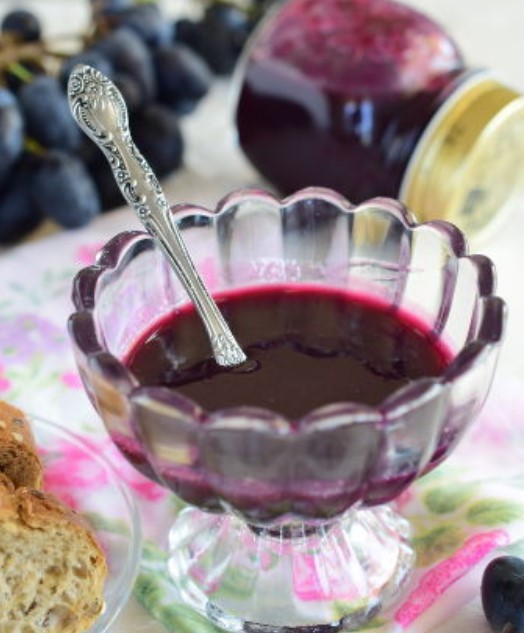 Delicious grape jam can be made according to this recipe with only grapes available!
Cook: 1 hour 30 mins
Servings: 6
Ingredients
Directions
Let's prepare the grapes for jam. It is better to use grapes of different varieties, then the jam will be more aromatic and its color will be saturated. From 1 kg of grapes, about 150 ml of jam is obtained.
Pick the grapes from the bunches. Put the berries in a bowl.
Let's wash the grapes well.

With the help of a potato grinder or simply with our hands we crush the berries so that they burst and let the juice out.
Grind all the grapes through a sieve. We will not use the peel, only the juice.
As a result, we get about 350-400 ml of grape juice. We put a saucepan with grape juice on the fire. Let the juice boil, remove the resulting foam.
Then reduce the heat to minimum and boil off the grape juice over low heat, stirring occasionally, until it thickens and turns into jam.

Transfer the finished grape juice jam to a sterilized jar and screw the jar with a sterile lid.
Grape jam works well on bread or breakfast rolls. You can also use jam for various baked goods as a filling or a layer on cakes.
Bon appetit!
Also Like
Comments for "Grape Jam"