Greek Salad on Croutons
by Editorial Staff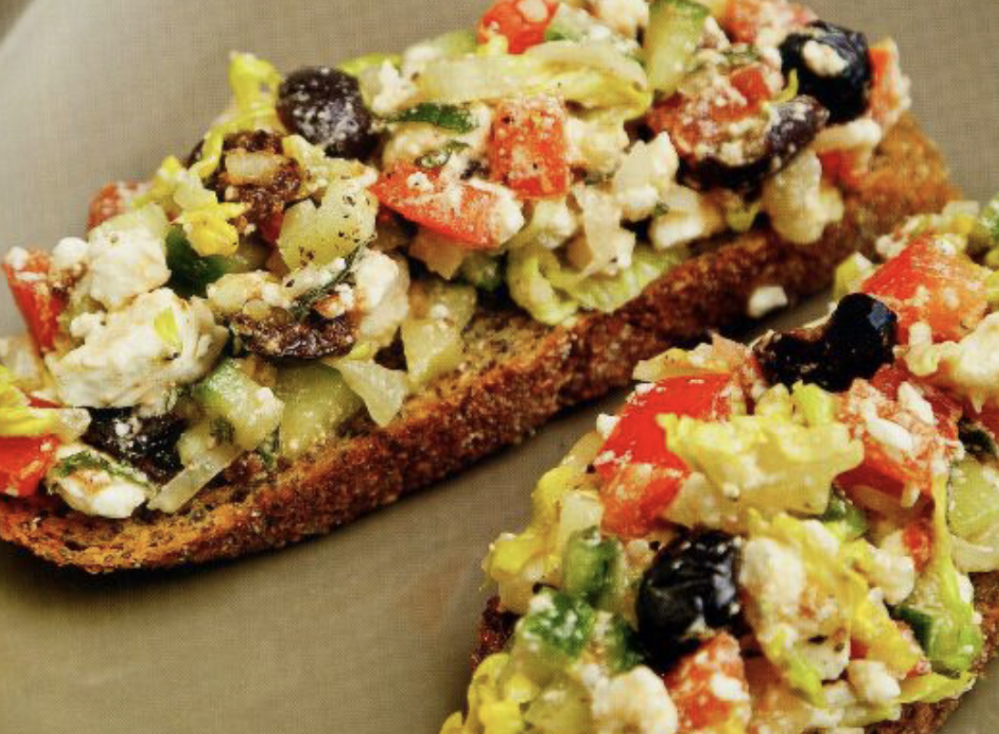 Greek salad is served on crispy toasted bread slices.
Ingredients
Bread – 2 slices
Feta cheese, shredded – 1.25 cups
Cucumber, sliced ​​- 0.25 pcs.
Cream tomatoes, chopped – 4 pcs.
Black olives, chopped – 0.25 cups
Leaf lettuce (Boston), sliced ​​- 1 pc.
Sliced ​​onions – 0.5 pcs.
Mint leaves, chopped – 2 pcs.
Oregano Leaves, chopped – 2 pcs.
Sugar – 0.25 teaspoon
Sesame seeds – 0.5 teaspoon
Pine nuts (optional) – 2 teaspoon
Olive oil – 0.25 cups
Garlic – 1 clove
Ground black pepper – to taste
Directions
Preheat the oven. Chop the garlic and mix in a large bowl with olive oil. Place the bread slices on a wire shelf. Grease the bread with butter mixed with garlic.
Fry the bread in the oven for 2-3 minutes, until crispy. Remove from oven, grease with oil again, and bake again.

Put feta in butter with garlic. Season with pepper. Add the rest of the Greek feta salad ingredients: cucumber, olives, tomatoes, onions, mint, and oregano.

Sprinkle the salad of cucumbers, tomatoes, olives with sugar and mix thoroughly. Stir in the lettuce leaves.

Put the croutons on plates and spoon the Greek salad on them.
Sprinkle the Greek salad on toast with sesame seeds and pine nuts and serve immediately.
Enjoy your meal!
Also Like
Comments for "Greek Salad on Croutons"