Grilled Mushrooms
by Editorial Staff
Large mushrooms are marinated in a garlic marinade and grilled.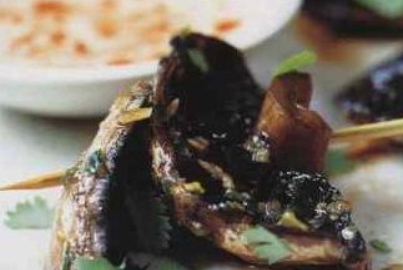 Ingredients
Large champignon mushrooms – 12 pcs.
Garlic (finely chopped) – 4 cloves
Cilantro (coriander) root (finely chopped) – 6 pcs.
Sugar – 1 tbsp
Soy sauce – 2 tbsp
Ground black pepper – to taste
For the sauce:
Sugar – 1 tbsp
Rice vinegar – 90 g
Salt – 1 teaspoon
Garlic (chopped through a press) – 1 clove
Red chili pepper (seeded and finely chopped) – 1 pod
Directions
If you use wooden skewers, soak them in cold water for at least 30 minutes so that they do not burn during the frying process.
Prepare the sauce. In a small saucepan, combine the sugar, rice vinegar, and salt, put the saucepan over medium heat, stir the sugar and salt. Then add the garlic and chili, stir, pour the sauce into a small bowl, set aside until serving.
In a small kitchen processor, grind 4 cloves of garlic with cilantro root. Add soy sauce, sugar, and a pinch of black pepper to the processor.
Wash the mushrooms, cut the legs, cut the caps into halves. On each wooden skewer, string 3 halves of mushrooms, put all the kebabs on a large plate. Brush the mushrooms with garlic sauce and leave to marinate for 15 minutes.
In the meantime, switch on the grill to preheat. Put the mushroom kebabs on a preheated grill, cook for 2-3 minutes on each side.
Serve the fried mushrooms with soy sauce.
Enjoy your meal!
Also Like
Comments for "Grilled Mushrooms"