Grilled Steaks with Lime and Onion
by Editorial Staff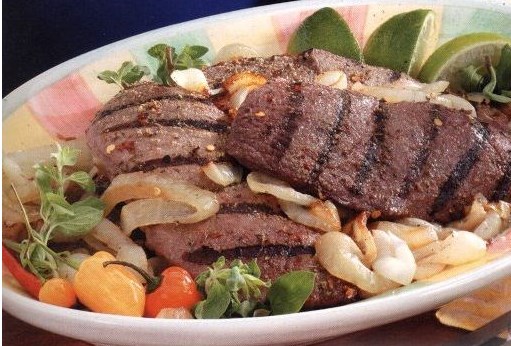 Beef steaks should be grated with the correct spices and grilled.
Servings: 4
Ingredients
Beef fillet steaks – 4 pcs. (230 g each)
Garlic powder – 1 teaspoon
Salt – 3/4 teaspoon.
Dried oregano – 1/2 teaspoon
Dried cumin – 1/2 teaspoon
Red pepper flakes – 1/4 teaspoon.
White salad onions (cut into rings) – 2 pcs.
Olive oil – 1/4 cup
Ground black pepper – 1/4 teaspoon.
Medium lime (cut into 4 wedges) – 1 pc.
Directions
Turn on the grill to preheat to medium heat.
In a small bowl, combine the garlic powder, 1/2 teaspoon salt, cumin, oregano, and red pepper flakes. Grate beef steaks with this mixture and set aside. Place the onion in a disposable foil container, add oil, and mix well. Place the dishes with the onions on the grill rack, cover the grill with the lid, and cook, stirring occasionally, until the onions are golden brown, about 30-40 minutes. Sprinkle the onion with the remaining salt and black pepper and drizzle with lime juice.
Place the steaks on the grill rack and cook the grilled beef steaks, uncovered, for 7-10 minutes on each side, to the desired degree of doneness. Drizzle the lime juice over the steaks and place the onion rings on top. Serve the beef steaks immediately.
Also Like
Comments for "Grilled Steaks with Lime and Onion"