Fajitos: Grilled Mexican Steak
by Editorial Staff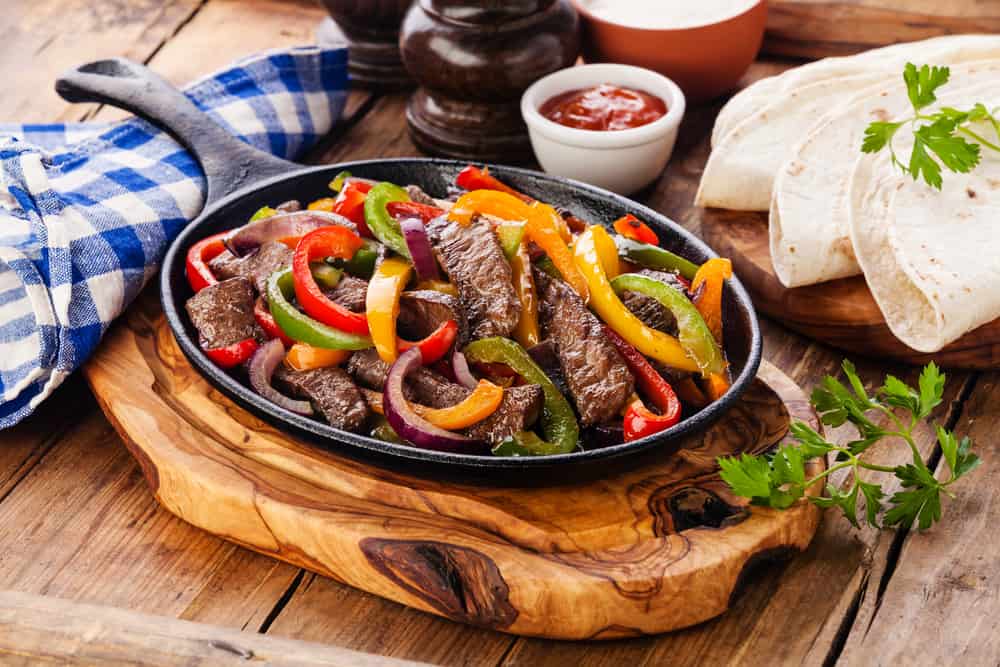 Fajitas or fajita/fajitas is a Mexican dish with meat and vegetables, traditionally served on a breadcrumb.
Ingredients
Pineapple juice 250 ml
Corn oil 100 ml
Soy sauce 50 ml
Garlic 3 tooth.
A piece of beef meat, the so-called Philadelphia steak 900 g
Peppers of different colors (yellow, green, red) 4 pcs.
Red onion 1pc.
Coriander and basil 1 bunch
Salt pepper
Tortillas – unleavened dough bread cakes – 6 pieces
Directions
In order to prepare the marinade, you need to mix pineapple juice, oil, soy sauce, garlic and mix well.
Prepare the meat: rinse, dry, and cut into 6 approximately equal parts. Pour the marinade over the meat (leave one quarter), cover hermetically with foil, and leave in the refrigerator for 3 hours to 1 day.
Preheat the grill by collecting the coals on one side and leaving the other relatively "colder". Dry the steak from the marinade, season with salt and pepper, and place on the wire rack on the "hot" side. Bake until brown, 4 minutes on each side.
Then wrap the grill in foil and move it to the "cold" part of the grill. Place the tortilla cakes wrapped in foil there, letting them warm up slightly.
At the same time, on the "hot" side of the grill, grease the wire rack with oil and bake the onion and pepper cut into rings. After that, put vegetables in a foil dish, salt, mix with cilantro and the remaining marinade.
Uncover the steak, cut it into strips. Put portions of steak on the tortillas, add 1/6 of the vegetables each, wrap the tortillas, and put them on the "hot" part of the grill for a minute.
Serve the fajitas with pico de gallo, guacamole, or avocado pieces.
Also Like
Comments for "Fajitos: Grilled Mexican Steak"