Homemade Juicers with Cottage Cheese
by Editorial Staff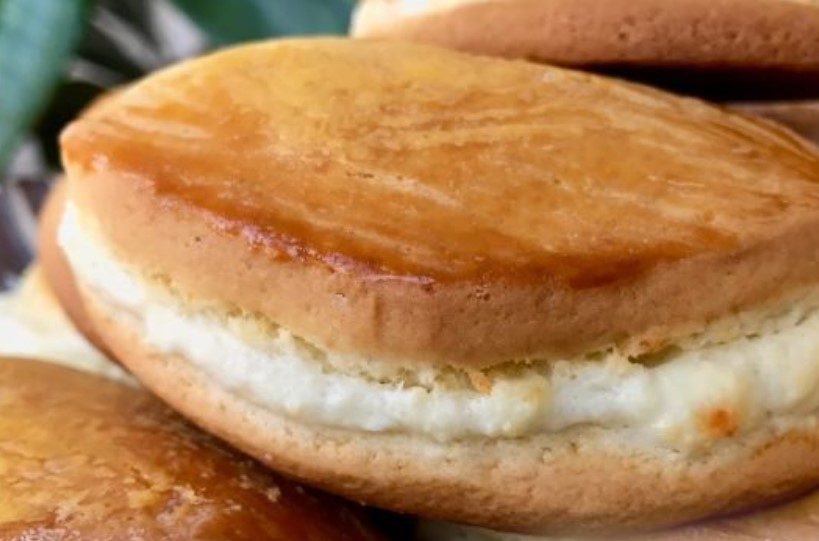 Homemade juicers from tender dough with fluffy curd filling. You can't buy such juices in a store!
Ingredients
For the test:
Butter – 70 g
Sour cream – 4 tablespoons
Flour – 400 g
Sugar – 1 glass
Salt – a pinch
Egg – 1 pc.
Soda – 1 teaspoon.
*
For filling:
Cottage cheese – 150 g
Sugar – 2 tablespoons
Sour cream – 1 tablespoon.
Egg – 1 pc.
Flour – 1 tablespoon.
Directions
First, prepare the dough from food at room temperature. Beat the sour cream with sugar for 2-3 minutes, so that the sugar is half melted.
Add salt and egg. Beat again.
Add softened butter and mix all the ingredients.
We introduce sifted flour and soda. We mix.

Pour 2-3 tablespoon on the table. tablespoons of flour and spread the dough. Stir the flour into the dough until it stops sticking to your hands. The dough for the juicers should be soft. We cover it with foil and set it aside.
Let's start making curd filling. Separate the egg white from the yolk and beat into a stable foam. Then add 2 tablespoon. tablespoons of sugar and interrupt until the sugar dissolves. Rub the cottage cheese with a fork, add proteins and sour cream to it. Mix and add 1 tablespoon. a spoonful of flour.
Divide the dough into 4 parts and roll each into a layer. With a culinary ring or mug, we cut out blanks for juices.
We crush the middle of the circles with our fingers, because it should be thinner than the edges. Put the filling on half of the dough and cover with the other half. We fasten the corners together.
Using a spatula, we shift the juices with cottage cheese onto a baking sheet covered with parchment. Lubricate with whipped yolk. We bake in a hot oven at 180 degrees for 20 minutes, and then reduce the temperature to 160 degrees and bake for another 5 minutes.
The cottage cheese pots are ready. You need to eat them when they are completely cool.
Bon Appetit!
Also Like
Comments for "Homemade Juicers with Cottage Cheese"