Homemade Milk Powder Sweets
by Editorial Staff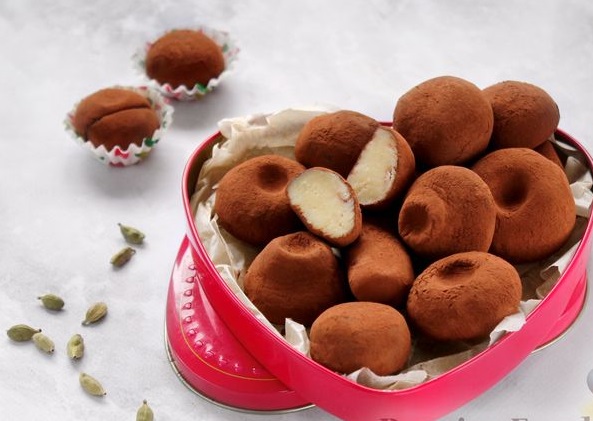 The recipe for delicious sweets at home. Homemade sweets made from powdered milk are soft, and on top, there is a velvet shell of cocoa powder! Milk candies can be flavored with spices if desired. Adult sweets can add aromatic alcohol to homemade sweets.
Ingredients
Powdered milk – 250 g
Butter – 100 g
Sugar – 300 g
Cocoa powder – 3-4 tbsp
Water – 70 ml
Dark rum (or brandy) – 30 ml
Cardamom (or vanilla, cinnamon, anise) – to taste
Directions
Before making sweets from powdered milk, we prepare all the necessary products.

First, cook the sugar syrup. You can add sugar only to water (100 ml) or enhance the aroma with rum, as I did, adding 30 ml of dark rum to 70 ml of water.
Bring the syrup to a boil, dissolve the sugar. Cook for about 10 minutes for the syrup to thicken slightly.
To quickly cool the sugar syrup, pour it into a wide container.
Add butter to the syrup immediately.
We mix. In hot syrup, the butter melts instantly.
Grind several grains of cardamom: remove the shell and grind only the grains. Cardamom will add a lollipop flavor to the candy.
Pour powdered milk and chopped cardamom into the syrup with butter.
Mix and remove lumps. We send the resulting mass to the refrigerator for 20-30 minutes, covered with a film or a lid. When cold, the candy mass will stabilize (become denser).
We sculpt balls or candies of another shape from a dense sweet mass. Roll the milk sweets on all sides in cocoa powder.

Homemade milk powder sweets are ready.
Enjoy your tea and coffee!
Also Like
Comments for "Homemade Milk Powder Sweets"