Lamb Kebab with Mint
by Editorial Staff
Finally, I managed to make a mutton kebab! For the marinade, I used yoghurt and fresh mint. I was ready for a brighter mint flavour, but it felt very delicately. Let's start cooking!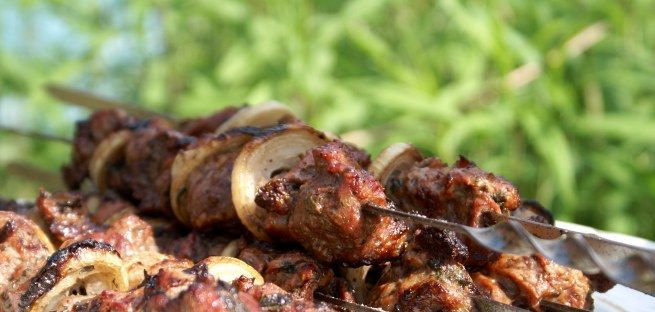 Ingredients
Lamb – 1.7 kg
Natural yogurt – 250-300 ml
Fresh mint – a large bunch
Dry basil – 1 tbsp
Onions – 4-5 pcs.
Pepper
Salt
Directions
Cut the lamb into small pieces, preferably with a small amount of fat on the pieces. (Precisely, small – if the fat is thick chunks, then during frying it will burn and drip onto the coals, the flashing flame will charcoal the kebab, preventing it from fried inside). We put the meat in a sufficiently deep bowl.
Cut the onion into rings, approximately 4 mm thick, taking care not to damage the integrity of the rings. The bulbs should be juicy and not too large.
Chop fresh mint.

Pepper generously and salt very sparingly. Add dry basil and fresh mint. Mash and stir the meat with your hands so that it is properly saturated with the aroma of spices. Pour in the yoghurt while continuing to crush the meat.
Then put onion rings, stir gently so that the meat is interspersed with onions, but do not break the onion rings. Tamp. Cover the dish with a lid and put in a cool place for several hours. Ideally, for a day or two. My lamb kebab was marinated for a day.
We string the meat on skewers. It is best to string it along with a piece so that the meat is better fried. I do not divide the bow into small rings, I try (if possible) to string it with "washers".
I freed the pieces of meat from the mint and threw it on hot coals for flavour.
While the shish kebab was being fried, I poured dry wine on it several times.

The coals were hot, lamb shish kebab was cooked quickly, in about 25-30 minutes. Juicy and aromatic! It is best to drink lamb with wine or green tea. These drinks are good at breaking down fat and promoting better digestion.
Bon Appetit!
Also Like
Comments for "Lamb Kebab with Mint"