Lamb Kebab with Honey Sauce
by Editorial Staff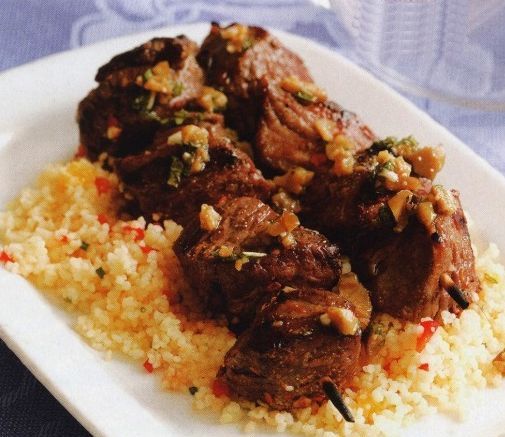 The meat is marinated in a garlic marinade, lamb is grilled and served with honey sauce.
Servings: 4
Ingredients
Boneless lamb shoulder (cut into 5 cm cubes) – 400 g
Garlic (minced) – 1 clove
Ground cumin (cumin) – 1 teaspoon.
Dried red pepper, flakes – 1/4 teaspoon.
Wine red vinegar – 2 teaspoon
Honey – 1 teaspoon.
Pitted green olives (chopped) – 2 tbsp
Fresh mint (chopped leaves) – 2 tbsp
Extra virgin olive oil – 3 tbsp
Salt to taste
Couscous for garnish (optional)
Directions
In a medium bowl, combine the chopped meat with 1 tablespoon oil, 1/2 teaspoon garlic, 1/2 teaspoon cumin, 1/2 teaspoon salt, and red pepper flakes.
Turn on the grill to preheat to a high temperature.
In a small bowl, combine the vinegar, mint, honey, olives, leftover garlic, cumin, and olive oil.
String the meat on 4 small skewers and place on the grill rack. Fry for about 3-4 minutes on each side.
Put the kebabs on a plate (optional – with a side dish), pour over the honey sauce.
Also Like
Comments for "Lamb Kebab with Honey Sauce"