Lemon Almond Cake
by Editorial Staff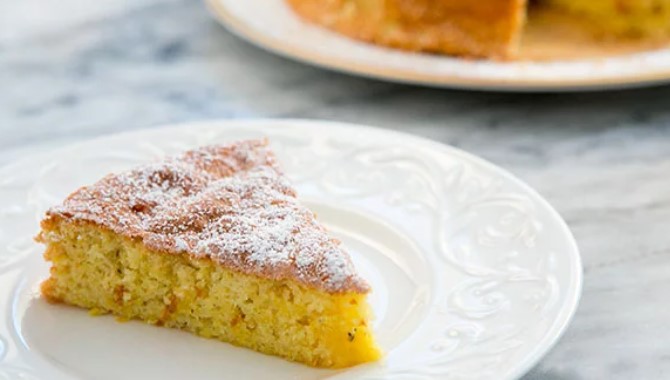 A light and fluffy gluten-free lemon cake made with almond flour, eggs, sugar, and lemon zest. Just the perfect holiday dessert!
Cook: 1 hr
Servings: 8
Ingredients
Eggs – 4 pcs.
Lemon zest – 2 tablespoon.
Sugar – 100 g
Almond flour – 150 g
Leavening agent – 1 teaspoon.
Cardamom – 1/4 teaspoon.
Apple cider vinegar – 1 teaspoon.
Salt – a pinch
Powdered sugar for sprinkling
Directions
Preheat the oven up to 180 ° C. Put parchment paper on the bottom of a baking mold (20 cm in diameter), grease it and the edges with some butter.
Whisk the egg yolks, lemon zest, and 1/4 cup of sugar with a wooden spoon in a large bowl until smooth.

Mix the almond flour, cardamom, and leavening agent. Add the flour mixture to the egg yolk mixture and mix it. The mixture should resemble a thick paste.
Whisk the egg whites with a mixer starting at a low speed and gradually increasing the speed. When the bubbles begin to form, add a pinch of salt and a teaspoon of vinegar (both salt and vinegar will help the whipped egg whites retain their best structure). When the egg whites begin to increase in volume, add the remaining 1/4 cup of sugar gradually and continue whisking. Whisk until soft peaks form.

Add the egg whites to the almond mixture.

Pour the batter into the prepared baking dish and place it in the oven. Bake it at 180°C for 30 minutes.

Take the cake out of the oven and allow it to cool. Sprinkle with some powdered sugar before serving.
Also Like
Comments for "Lemon Almond Cake"