Mackerel Baked with Mushrooms and Potatoes
by Editorial Staff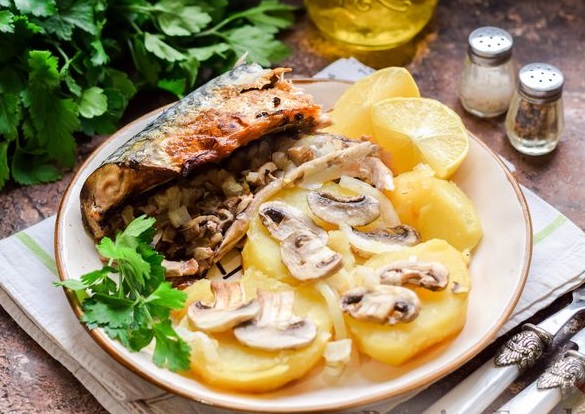 Mackerel baked with mushrooms and potatoes is a real festive dish that will come in handy at any feast. Fatty mackerel turns out to be very tasty, it goes perfectly with potatoes, mushrooms, and onions; some lemon juice will balance the flavor and make the fish less oily. Take note of the recipe.
Ingredients
Fresh frozen mackerel – 400 g
Potatoes – 400 g
Onions – 80 g
Champignons – 200 g
Lemon – 50 g
Salt to taste
Ground black pepper – to taste
Vegetable oil – 2 tbsp
Directions
Prepare foods according to the list. Defrost the mackerel in advance.

Wash the potatoes thoroughly and boil them in their skins for 15 minutes, until half cooked. Then cool the potatoes a little and peel.
Peel the onion. Cut half the onion into small cubes. Cut the remaining onion into half rings.
Cut three mushrooms into small cubes, and the rest into plates.
Mix finely chopped onion and mushrooms, season with salt and pepper.
Cut off the head and fins of the mackerel. Gut the fish, wash thoroughly, and dry. Salt the fish, sprinkle with lemon juice.
Stuff the mackerel carcass with finely chopped onions and mushrooms.
Turn on the oven to heat up to 190 degrees. Place coarsely chopped potatoes in a baking dish.
Spread mushroom plates and onion half-rings on top of the potatoes. Add salt and pepper to taste.
Put the mackerel carcass on top of the vegetables with mushrooms.
Mackerel is a fast enough fish so that the side dish is not dry, but saturated with the "juice" (fat) of the fish.
Bake mackerel with mushrooms and potatoes in the oven at 190 degrees for 35-40 minutes.

Mackerel baked with mushrooms and potatoes is ready. When serving, you can add fresh vegetables, herbs, your favorite sauce, and a couple of lemon slices to the table.
Enjoy your meal!
Also Like
Comments for "Mackerel Baked with Mushrooms and Potatoes"