Potato Salad with Smoked Mackerel
by Editorial Staff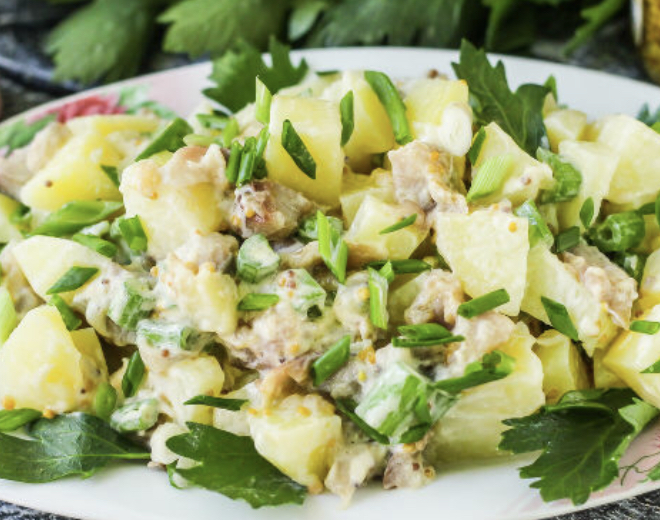 A delicious, hearty, and nutritious salad of boiled potatoes and smoked mackerel is sure to please the stronger sex, especially if you serve potato salad for dinner with a glass of frothy beer!
Ingredients
Smoked mackerel – 1 pc.
Potatoes (young) – 3 pcs.
Petiolate celery – 2-3 stalks
Mustard beans – 1 teaspoon
Mayonnaise – 1 tbsp
Olive oil – 1 teaspoon
Salt – 2 pinches
Ground black pepper – 2 pinches
Green onion – 2-3 stalks
Directions
Prepare the required ingredients for the potato and smoked fish salad.
Recipe preparation photo: Potato salad with
Rinse potato tubers in water with a sponge and place in a saucepan. Pour in salt, cover with water and boil for about 20 minutes from the moment the water boils.
Then fill the boiled potatoes with ice water for 10 minutes, peel, and cut into large or medium cubes. Place the potatoes in a bowl.
Cut the smoked mackerel horizontally in half, remove the ridge, skin, and tail fins. Cut the fish fillet into pieces and add to the potatoes.
Wash the celery stalks and cut them into medium slices. Pour in with the rest of the ingredients.
Combine mustard beans, mayonnaise, and olive oil. If the fish tastes less salty, add a pinch of salt to the dressing.
Add the dressing to the fish salad and stir gently.

Place the potato and fish salad on a serving platter.
Chop the washed green onions and sprinkle them with the smoked mackerel potato salad, garnish with celery leaves and serve the salad to the table.
Enjoy your meal!
Also Like
Comments for "Potato Salad with Smoked Mackerel"