Baked Potatoes with Mackerel and Cheese
by Editorial Staff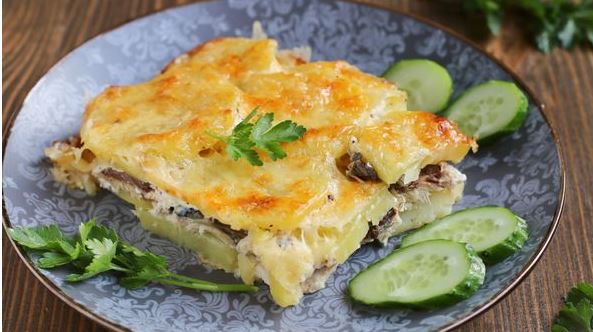 Potatoes baked with mackerel and cheese is a simple, budgetary dish, but very tasty and healthy, because mackerel in its qualities and properties is not inferior to expensive redfish.
Cook: 40 mins
Servings: 4
Ingredients
Potatoes – 500 g
Frozen mackerel – 1 pc.
Hard cheese – 50 g
Sour cream – 40 g
Vegetable oil – 1 tbsp
Salt to taste
Ground black pepper – to taste
Delicious and healthy mackerel is well baked, and in order for it to be a complete dish that can be served for dinner, we will cook it right away with a side dish. The most common side dish is everyone's favorite potato, and we will cook it with it. And to make the dish juicier, grease each layer with sour cream. You can use both mayonnaise or a mixture of sour cream and mayonnaise, but I prefer the lower-calorie, fatty option.
Directions
We prepare all the products according to the recipe list. Defrost the mackerel. We immediately turn on the oven and heat it up to 180 degrees. n Peel the potatoes and cut into thick circles about 0.7 cm.

Put the potato mugs in salted and practically boiling water. We cook the potatoes for about 2 minutes so that then they can cook together with the fish in the oven, because the raw potatoes will not have time to bake, and the fish will bake very quickly.
While the potatoes are boiling, gut the mackerel, cut off the head, separate the fillet from the bones and cut it into pieces.
Grease the baking dish with vegetable oil and put half of the hot blanched potatoes on the bottom. Sprinkle with salt and pepper.
Lubricate the potatoes with sour cream and spread the slices of chopped mackerel on top. After that, salt and pepper the fish, also grease it with sour cream.

Spread a layer of the remaining potatoes on the mackerel. Sprinkle with salt and pepper.
Rub the cheese on a coarse grater. Grease the top layer of potatoes with sour cream and sprinkle with cheese. We put the dish with potatoes and mackerel in the oven, preheated to 180 degrees, and bake until light golden brown, about 20 minutes.
We take out the baked potatoes with mackerel and cheese from the oven. A very aromatic dish! Cut the potatoes, baked with mackerel, into portions and immediately serve.
Bon Appetit!
Also Like
Comments for "Baked Potatoes with Mackerel and Cheese"