Mackerel, Baked in a Jar (in the Oven)
by Editorial Staff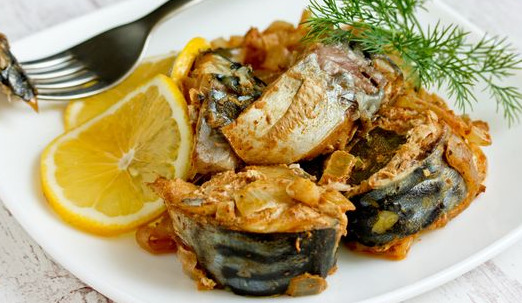 A fun way to cook mackerel. Pre-marinated with onion and lemon, the fish is baked in the oven right in a glass jar. As a result, we get delicious, juicy, soft, and fragrant pieces of mackerel. By the way, the onion with which the fish is baked is also very tasty. 🙂
Servings: 3
Ingredients
Mackerel – 500 g (1 pc.)
Onions – 130 g (1 pc.)
Lemon – 1/3 pc.
Bay leaf – 2 pcs.
Sunflower oil – 1 tbsp
Ground paprika – 2 teaspoon
Salt to taste
Ground black pepper – to taste
Directions
We also need a couple of tablespoons of salt, a 0.7L glass jar, foil, baking parchment, and a suitable baking dish.
Peel the entrails of the mackerel, cut off the head, and fins. Rinse the fish and pat dry with a paper towel, carefully removing the black film inside the abdomen. Cut the fish into portions.
Peel the onion and cut it into half rings.
Transfer the fish pieces and onions to a bowl.
Wash the lemon and cut 3 circles from it.
Add lemon to fish, squeezing the juice out of slices lightly. Add salt, black pepper, ground paprika and bay leaves to this.
Mix the fish with additives by hand and leave to marinate for 2 hours at room temperature (you can leave it in the refrigerator overnight, then the container will need to be tightened with cling film).
When the fish is marinated, prepare the mold. Put a sheet of parchment on the bottom of the mold, pour 2 tablespoon into the center. tablespoons of salt and smooth slightly. On this salt pad, there will be a jar with fish – as a result of this, the jar will not burst from the temperature of the heated mold.
Pour 1 tablespoon into the bottom of the jar. a spoonful of sunflower oil.
Put the mackerel pieces and onion with lemon in the jar, i.e. the entire contents of the bowl.
Use foil to make a lid on the jar.
Put the jar on salt and send the whole structure to the cold oven. Now turn on the oven, set the temperature to 170 degrees, and bake the fish for 30 minutes after the oven has warmed up to the set temperature – about 40-45 minutes in total. When the baking time has expired, leave the jar in the already switched off oven for another 10 minutes.
After that, carefully remove the can of fish from the oven and remove the foil lid.
Mackerel baked in a jar (in the oven) is ready to serve.
Enjoy your meal!
Also Like
Comments for "Mackerel, Baked in a Jar (in the Oven)"