Meat "Accordion" Baked with Apples and Vegetables
by Editorial Staff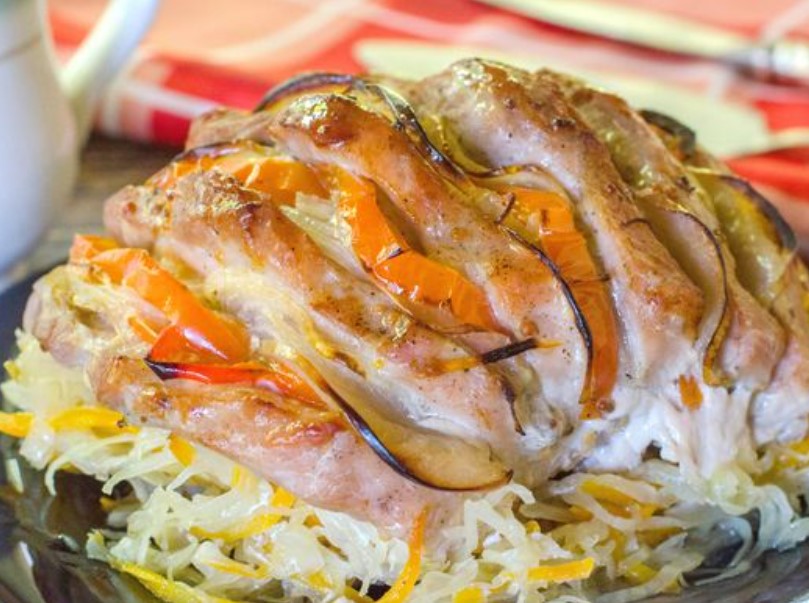 The accordion-cut meat is briefly marinated with mustard and soy sauce. Then pork with apples, bell peppers and onions is baked in a sleeve on a "pillow" of cabbage and carrots. The dish is extremely tasty! The meat turns out to be very juicy, rich in marinade aromas, and the apple adds a delicate sweetness to the dish. Having cooked pork in this way, you can immediately get a vegetable side dish for it.
Cook: 2 hours
Servings: 4
Ingredients
Pork (pulp) – 600-700 g
Apple – 1 pc.
Sweet pepper – 1 pc.
Bulb onions – 1 pc.
White cabbage – 200 g
Carrots – 1 pc.
Soy sauce – 2 tbsp
Mustard beans – 2 tbsp
Vinegar 9% – 1 teaspoon
Vegetable oil – 3 tbsp
Starch – 1 teaspoon
Salt to taste
Ground black pepper – to taste
Directions
We prepare products.

We wash the meat and make deep cuts at a distance of 1.5 cm, not cutting to the edge
Combine vegetable oil, vinegar, soy sauce, mustard, starch, salt and pepper. We mix.
With this mixture, carefully rub the prepared pork inside and out. We send the meat to the refrigerator to marinate while preparing other products.
Peel and grate the carrots in Korean style. Chop the cabbage into strips.
Combine carrots and cabbage in a bowl, salt. Lightly knead with your hands so that the vegetables let the juice out. Preheat the oven to 200 degrees.
Pepper seeds are removed and cut into half rings.
Peel the onion and cut into half rings.
Peel and core the apple and cut into slices.
Place the carrots and cabbage on the bottom of the baking dish (I use a disposable 20×15 cm dish).
We spread the meat in a mustard-soy marinade in a mold on cabbage with carrots.
Put sweet peppers, onions and an apple in the meat slot.

Place the shape in the sleeve. We tie the edges of the sleeve on both sides. From above with a knife we ​​make 2-3 holes in the sleeve. We bake pork with vegetables and apples in the oven for 1 hour at a temperature of 200 degrees.
After this time, remove the meat from the sleeve and pour over the resulting juice. We send the pork "accordion" into the oven for another 10-15 minutes, so that the excess liquid evaporates and the meat is slightly browned.
Let the baked pork with vegetables and apples cool slightly.
Before serving, cut the meat "accordion" into portioned pieces (just insert the knife into the cuts and cut to the end).
Bon Appetit!
Also Like
Comments for "Meat "Accordion" Baked with Apples and Vegetables"