Baked Eggplant "Accordion" with Potatoes, Cheese Crust
by Editorial Staff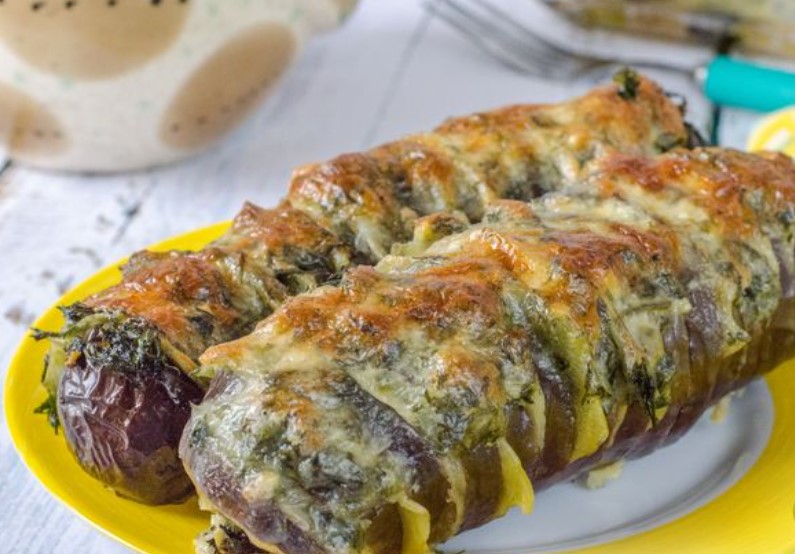 This cute and original dish will be especially appreciated by eggplant lovers. Baked eggplants "Accordion" with potatoes are juicy, fragrant, under an appetizing crust of herbs and cheese. Such a dish can even serve as a cold snack on a festive table.
Cook: 1 hour 25 mins
Servings: 3
Ingredients
Eggplant – 3 pcs.
Potatoes – 2-3 pcs.
Hard cheese – 120 g
Garlic – 3 cloves
Parsley – 25 g
Dill greens – 25 g
Olive oil – 3 tbsp
Sour cream – 3 tbsp
Salt to taste
Directions
We prepare products.

We put a pot of water on heating.
Wash the eggplants and cut into an accordion, without cutting to the end about 0.5-1 cm (in slices 7-8 mm thick).
Boil the eggplants in salted water for 5 minutes after boiling. We put it in a colander. And again we put the pan with clean water on heating.
Peel the potatoes, cut into thin slices and rinse with cold water.
Boil potatoes in salted water for three minutes after boiling. We put the potatoes in a colander and let it cool slightly.
Peel the garlic, chop finely.
Wash greens and grind. I used a blender.
Mix herbs, garlic and olive oil.
Stuff the eggplants with potatoes, putting one slice of potatoes into each cut.

We turn on the oven to heat up to 200 degrees. Put the stuffed eggplants with potatoes in a baking dish. On top of each eggplant, apply a mass of herbs and garlic. We leave for 20 minutes. Then we send to the oven and bake the eggplants with potatoes for 20-25 minutes.
Three cheese on a fine grater.
We mix cheese with sour cream.
We take out the baked eggplant "Accordion" with potatoes and put a mass of cheese and sour cream on them. We send the eggplants to the oven for another 15 minutes.
Eggplants baked with potatoes, cheese crust, ready.
Bon Appetit!
Also Like
Comments for "Baked Eggplant "Accordion" with Potatoes, Cheese Crust"