Mediterranean Salad with Chickpeas
by Editorial Staff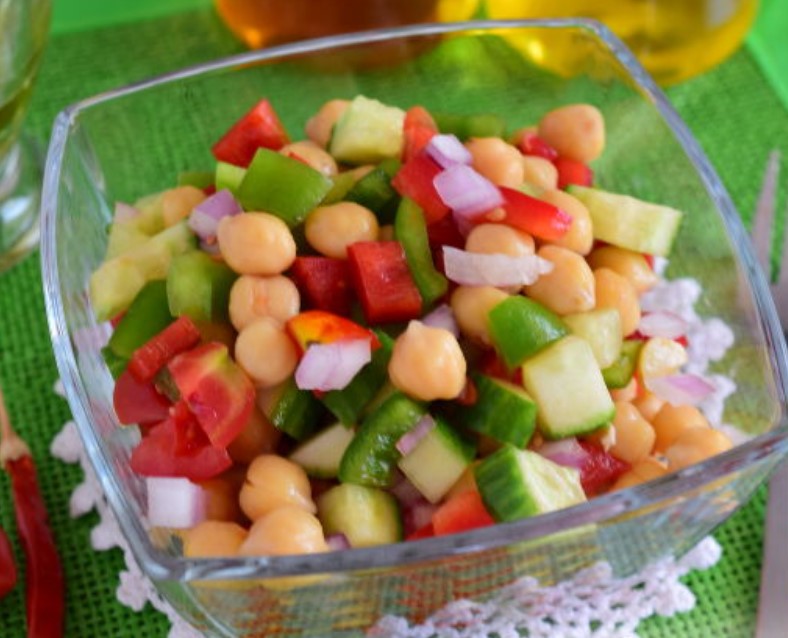 Very fresh and hearty salad with boiled chickpeas and vegetables.
Cook: 20 mins
Servings: 2
Ingredients
Tomato – 1 pc.
Cucumber – 1 pc.
Bulgarian pepper – 1 pc.
Red onion – 0.5 pcs.
Boiled chickpeas – 200 g
For the sauce:
Wine vinegar – 1 tbsp
Olive oil – 2 tbsp
Parmesan cheese – 20 g
Garlic – 1 clove
Oregano – 1 pinch
Honey – 1 teaspoon.
Basil – 2-3 leaves
Salt to taste
Ground black pepper – to taste
Lemon juice (optional) – 1 teaspoon.
Directions
Prepare all the listed foods for your Mediterranean Chickpea Salad recipe. Boil chickpeas.

Start cutting the ingredients of the salad, it is advisable to cut all the vegetables into cubes of the same size. Cut the cucumber and onion into cubes.
It is better to take Bulgarian pepper in different colors to make the salad brighter. Cut it into cubes.
The tomato also needs to be diced.
Send all the chopped vegetables to one bowl. Add boiled chickpeas.
Prepare all the ingredients for the dressing sauce.
Chop the basil greens with a knife, squeeze the garlic through a press, grate the cheese on the finest grater. Combine all the dressing ingredients and whisk well. (I did not add lemon juice to this sauce, vinegar acid was enough for me, you can add.)

Mediterranean salad with chickpeas is ready. You can season the salad with the sauce right away, or you can just before serving, as I did.
Bon Appetit!
Also Like
Comments for "Mediterranean Salad with Chickpeas"