Mushroom Sauce
by Editorial Staff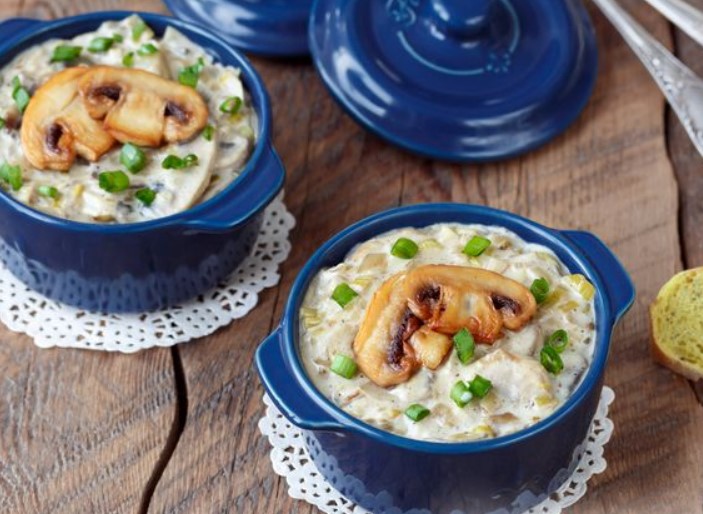 An appetizing, thick mushroom sauce made from champignons is a versatile dish that will help out both on holidays and on weekdays. The sauce goes well both with meat, fish and vegetable dishes, as well as with mashed potatoes, pasta and cereal side dishes. Combine the sauce with crispy toasted baguette slices for a hearty snack or snack.
Cook: 25 mins
Servings: 1
Ingredients
Champignons – 250 g
Butter – 50 g
Leeks – 1 pc.
Bulb onions – 1 pc.
Garlic – 1-2 cloves
Fat cream – 50 ml
Sour cream – 10 g
Wheat flour – 2 teaspoon.
Nutmeg – 0.25 teaspoon
Salt to taste
Ground black pepper – to taste


For decoration (optional):

Green onion – 1 stalk
Champignons – 1 pc.
Parmesan cheese – to taste
Directions
Prepare all the ingredients you need to make the mushroom sauce.
Cut the white part of the leek stalk into thin half rings, the champignons into slices, the onions into small cubes.
Melt the butter in a skillet over low heat.
Add chopped onions and leeks to the skillet. Saute the onions for 3 minutes, increasing the heat to medium.
Sift wheat flour into the pan (or sprinkle it in a thin layer over the surface of the onion). Fry the mixture for a few more minutes, until slightly golden brown.
Add the chopped mushrooms to the pan. Stirring often, fry the mushrooms and onions for another 5 minutes.

In a separate container, combine sour cream and cream. Add ground nutmeg and some salt and ground black pepper. (If you want the sauce to be less thick, you can double the amount of sour cream and cream.)
Add finely chopped garlic to the pan with mushrooms and mix well.
Pour the prepared mixture of cream, sour cream and spices into the mushrooms.
Simmer the mushrooms in a creamy sauce over low heat for another 10 minutes. After turning off the heat, taste the sauce and, if necessary, add more salt and black pepper to taste.

The mushroom sauce is ready. Serve the sauce hot, sprinkle with chopped green onions and grated Parmesan if desired. Also, to decorate the dish, you can separately fry one champignon, cut into slices, over high heat.

Enjoy your meal!
Also Like
Comments for "Mushroom Sauce"