Oatmeal Banana Cake with Nuts, Chocolate and Cinnamon
by Editorial Staff
Healthy baked goods can be delicious! An example of this is a muffin made from mashed banana, milk and vegetable oil, with the addition of oatmeal, nuts and chocolate to the dough. Nuts and chocolate enrich the cake and make it taste richer, while cinnamon gives baked goods a characteristic spicy flavor.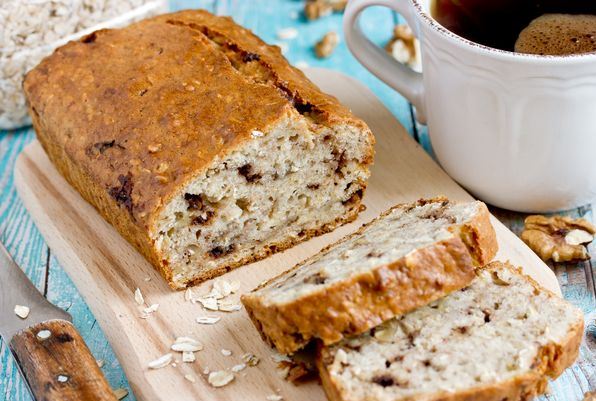 Cook: 60 mins
Servings: 4
Ingredients
Banana – 1 pc. (banana weight without peel – 150 g)
Oatmeal – 50 g
Walnuts – 30 g
Milk chocolate – 30 g
Milk – 80 ml
Sunflower oil – 2 tbsp
Sugar – 60 g
Flour – 100 g
Baking powder – 1.5 teaspoon
Vanilla sugar – 1.5 teaspoon
Ground cinnamon – 0.5 teaspoon
Salt – 1 pinch
Directions
Peel the banana, break it into pieces and transfer to a bowl. Use a fork to mash the mashed banana.
Pour milk into the banana puree, add plain and vanilla sugar, and salt. Stir.
Then add oatmeal and ground cinnamon.
Stir. Pour in sunflower oil. Stir again.
Chop the walnut kernels and milk chocolate with a knife until crumbled.
Place the nuts and chocolate in the bowl with the base of the dough.

Pour the sifted flour with baking powder there.
Stir the dough with a spatula and let sit for 15 minutes to soften the oatmeal slightly.
Turn on the oven and preheat to 180 degrees. Line a 10×20 cm rectangular pan with baking parchment so that both the bottom and sides of the pan are covered. Put the dough into the prepared form.
Bake the banana muffin with oatmeal, nuts, chocolate and cinnamon in the oven at 180 degrees for about 45 minutes, on a medium setting.
Transfer the finished banana cake to a wire rack and cool completely.
As you can see, the chocolate banana oatmeal cake is very easy to prepare. The cake is quite dense, but at the same time well-baked, elastic, aromatic and finely porous. Be sure to prepare such a cupcake.
Also Like
Comments for "Oatmeal Banana Cake with Nuts, Chocolate and Cinnamon"