Orange Muffins
by Editorial Staff
It is not difficult to prepare aromatic and delicate orange muffins, please your family with homemade cakes!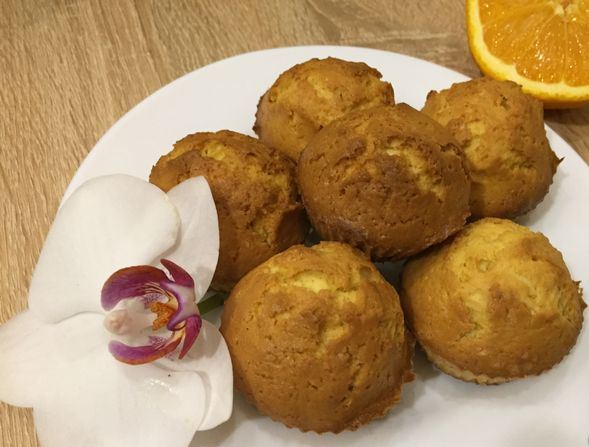 Ingredients
Orange – 0.5 pcs.
Butter – 50 g
or margarine – 50 g
Egg – 1 pc.
Sugar – 75 g
Flour – 140 g
Baking powder for dough – 1 teaspoon
Vanilla sugar – 1 teaspoon
Salt – 1 pinch
Directions
Wash the orange well with warm water and remove the zest with a fine grater.
Squeeze juice from an orange (100 ml).
Melt the butter in a water bath and cool.
Combine flour, vanilla sugar, baking powder and orange zest.
Break eggs into a bowl, add sugar and salt. Beat eggs with sugar with a mixer for 2-3 minutes.

Add the cooled melted butter to the egg mass.
Pour the flour mixture there. Stir and beat with a mixer.
Pour in orange juice.
To mix everything.
The orange muffin dough is ready.
Preheat the oven to 200 degrees. Prepare a muffin baking dish. I have a silicone mold. If you have a metal pan, grease it with vegetable oil first or insert paper muffin inserts into each slot. Fill the muffin mold 2/3 full of dough.
Bake orange muffins at 200 degrees for 15 minutes. From the specified amount of ingredients, 9 small muffins were obtained.
Allow muffins to cool and remove from molds onto a plate.
Also Like
Comments for "Orange Muffins"