Peach and Meringue Pie
by Editorial Staff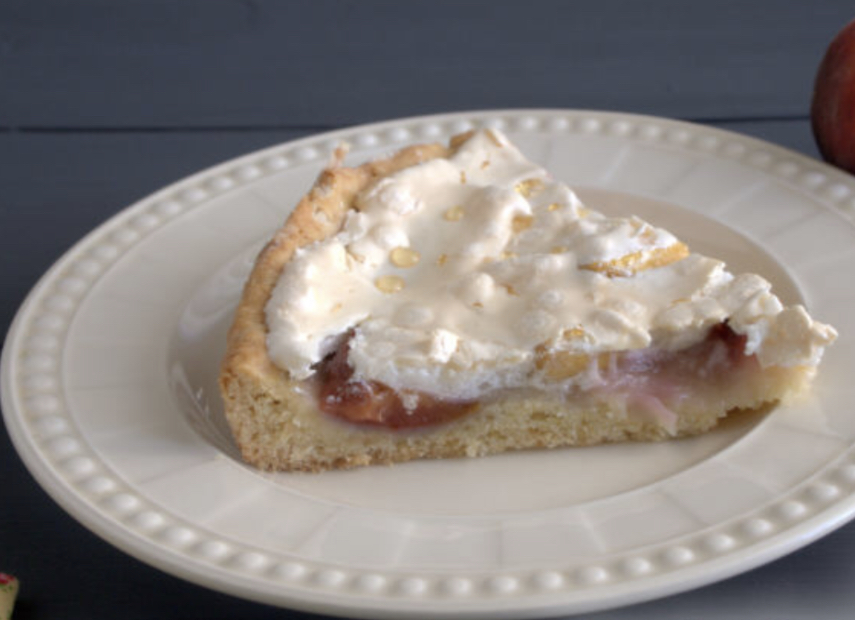 An appetizing, juicy, and aromatic pie made based on lean shortbread dough. It can also be given to small children. Fresh peaches give baked goods an incredibly delicate and bright aroma, and dry meringues give a delicate touch.
Ingredients
Peaches – 3-4 pcs.
Flour – 320 g
Baking powder – 1/2 teaspoon
Eggs – 2 pcs.
Buttermilk – 70 ml
Sugar – 150 g
Vegetable oil – 70 ml
It is recommended to use only refined butter for making the cake. Such a product will not spoil the taste and smell of baked goods, make it crumbly and very tasty. To make the dessert tasty, it is recommended to choose only ripe, sweet peaches for the filling, without flaws and damage. It is undesirable to use overripe fruits as a filler.
Directions
Pour vegetable fat into a bowl with sifted flour. Mix the mass until it turns into small crumbs. Add baking powder.
We introduce a raw egg, sugar (50 grams), and buttermilk. We can replace the last product in the recipe with sour cream.
With gentle movements, collect the mixture in a tight lump.
With the help of a rolling pin, we stretch the workpiece into the layer, put it in a refractory mold.
Chop the peaches into small pieces, put them on the crust, sprinkle with sugar (50 grams).
We send the mass to the oven (180 degrees). Bake the peach pie for 17-22 minutes.
Whisk raw protein (1 pcs.) With sugar (50 grams).
We cover the prepared dessert with white mass. Cook for another 20-25 minutes (temperature 120 degrees).

Peach and meringue pie is ready!
Cut the finished peach pie into portions, serve immediately.
Enjoy your meal!
Also Like
Comments for "Peach and Meringue Pie"