Redcurrant and Meringue Pie
by Editorial Staff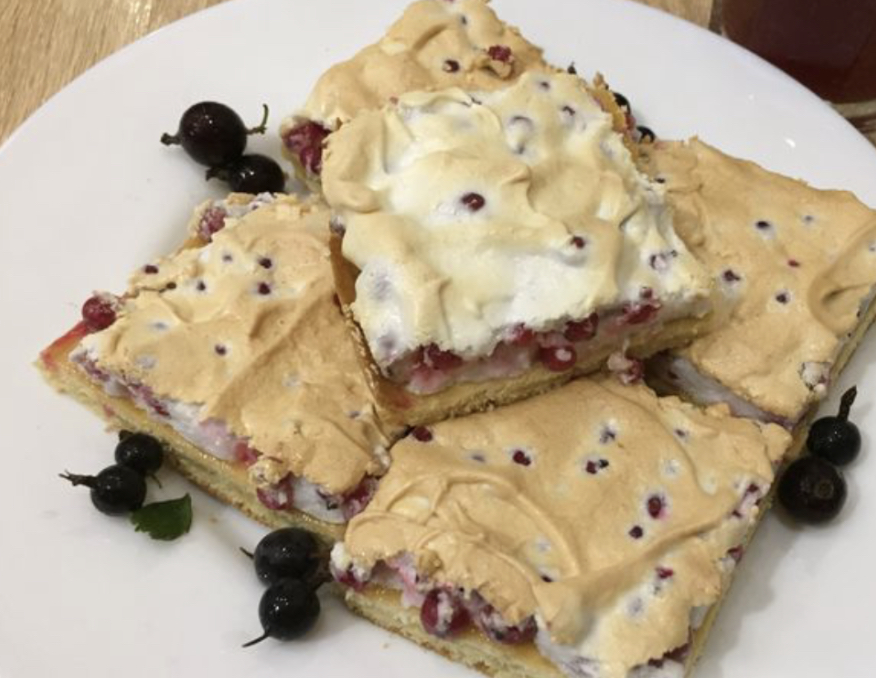 Quick recipe – delicious red currant and meringue pie for unexpected guests.
Ingredients
Red currant – 300 g
Wheat flour, premium grade – 100 g
Potato starch – 70 g
Eggs – 3 pcs.
Sugar – 150 g
Butter – 50 g + for greasing the baking sheet
Vanilla sugar – 1 tbsp
Baking powder – 2 teaspoon
Milk – 5 tbsp
Water (hot) – 3 tbsp
Salt – 1 pinch
Directions
Prepare all required ingredients.
Instead of currants, you can use other berries – gooseberries, blueberries, or pitted sweet cherries.
Heat the water until hot.
Melt the butter and cool slightly.
Break the eggs and divide them into yolks and whites.
For the dough, beat the yolks with hot water with a mixer until foam.
Gradually add half the sugar and vanilla sugar, whisking the yolks until white.
Mix the cooled butter with the yolk mass.
Stir the flour with 50 g of starch and baking powder.
Pour in milk. Beat for 30 seconds.
By adding a little flour, beat with a mixer until smooth.
The dough should be thick and slowly drain off the mixer blades.
Preheat oven to 200 ° C. Grease a baking sheet with butter. Put the dough on a baking sheet and spread with a spatula.

Bake the cake for about 15 minutes.
In the meantime, wash the currants, let them dry well and remove the twigs. Dip the currant berries in the remaining starch.
Beat the egg white with salt until foam.
Gradually adding the remaining sugar, beat the whites until firm peaks.
Add currants to the whipped protein.

Mix.
Set the oven to 150 ° C. Apply the protein mass to the cake.
Put the red currant pie to dry on the medium level of the oven for 15-20 minutes.


Then let the cake cool.

Cut the cooled meringue pie with red currants into about 19-20 pieces.
Serve the cake immediately.
Enjoy your meal!
Also Like
Comments for "Redcurrant and Meringue Pie"