Persimmon Pudding
by Editorial Staff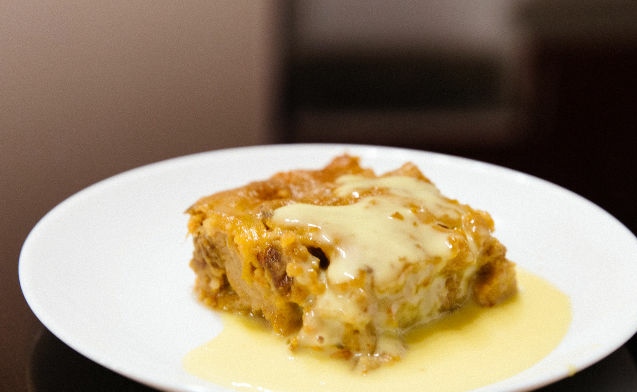 Delicious recipe for making bread pudding with persimmon. The addition of English cream when serving gives the dish a special charm.
Ingredients
Persimmon – 2 pcs.
Cream – 1 tbsp
Milk – 150 ml
Brown cane sugar – 100 g
Eggs – 2 pcs.
Vanilla sugar – 10 g
Ground cinnamon – 0.5 teaspoon.
Walnuts – 2 handfuls
Raisins- 1 handful
French baguette – 1 pc.
Butter – for greasing the mold
*
For the cream:
Eggs – 2 pcs.
White sugar – 2-3 tbsp
Milk – 100 ml
Cream – 165 ml
Bourbon or cognac – 1 tbsp
Directions
Mix in a bowl milk (150 ml), two eggs, cream (1 tbsp), sugar, cinnamon. Whisk. Peel the persimmon and squeeze it with your hands directly into the bowl with the egg-milk mixture. Salt. Add raisins and walnuts, which we press down with our hands to chop. We mix. Cut the loaf with your hands and mix with the rest of the ingredients. We put in the refrigerator for an hour.

Grease the form with butter and put the prepared mixture there, level the surface. Bread pudding with persimmon is sent to bake in the oven, preheated to 200 degrees, for 35 minutes.

For the sauce (English custard), heat the cream and milk in a water bath. Rub the yolks with sugar. Add bourbon. Pour the heated cream into the yolks with sugar, mix quickly and thoroughly until smooth. The resulting mixture is again sent to a water bath to thicken. If the custard doesn't run off the back of the spoon, then it is already thick enough.

The finished pudding should be firmer around the edges and slightly softer in the middle. Cut the persimmon bread pudding into portions and place on a plate. Pour the prepared sauce (English cream) over the pudding.
Enjoy your meal!
Also Like
Comments for "Persimmon Pudding"