Pie "Crumb" with Cherries
by Editorial Staff
Delicious and aromatic cherry pie based on crumb dough. Cooks directly in a baking dish in 5 minutes. Cherries add a pleasant sourness and rich taste to our baked goods. Try it!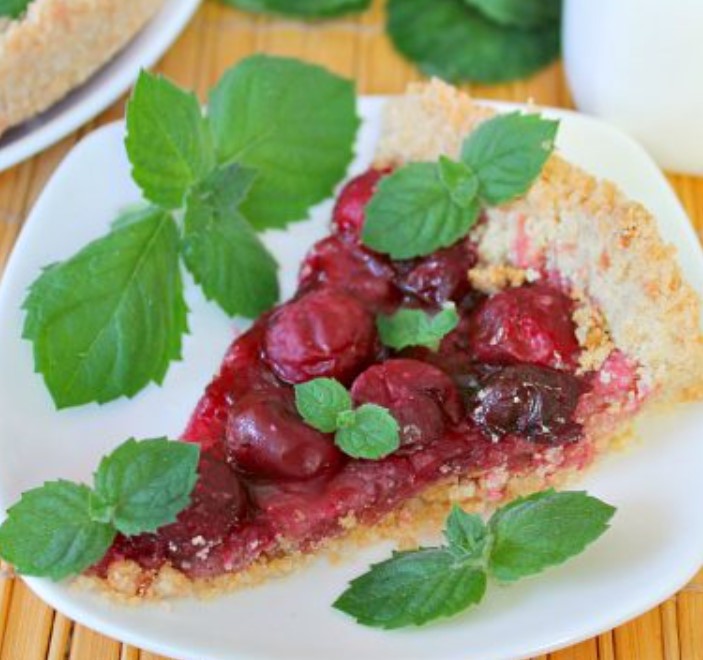 Cook: 25 mins
Servings: 4-6
Ingredients
Wheat flour – 200 grams (whole grain)
Sugar – 80-100 Grams (2-3 tablespoons for cherries, the rest of the sugar in the dough)
Butter – 80 Grams
Starch – 2 Art. spoons
Cherries – 300-400 Grams
Directions
Let's prepare the ingredients for the cake.
Pour flour and sugar into a silicone baking dish. Save 2 tablespoons of sugar for the cherries.
Add butter.
Knead the dough with a fork or hands until crumbs.
Spread the crumb dough over the bottom and press a little. We leave the side around the peri.
Put pitted cherries on the dough and sprinkle with sugar.
Pour starch into a strainer and sprinkle cherries with it. We send the cake to the preheated oven for 15 minutes. Cooking at 190 degrees.

Cool the finished pie a little. Then in the form we divide with a spatula into pieces. We transfer pieces of the pie to portioned plates. Cherry pie can be complemented with mint.
Bon Appetit!
Also Like
Comments for "Pie "Crumb" with Cherries"