Tyrolean Cherry Pie
by Editorial Staff
In Tyrolean cherry pie, not the usual shortbread dough, but a soft shortbread cake. Although the pie can be eaten right after the jelly has set, I recommend refrigerating it overnight. If you cut the pie on the same day, the cream, due to its delicate and light consistency, will begin to drip from the cake, and the pieces will not work out perfect.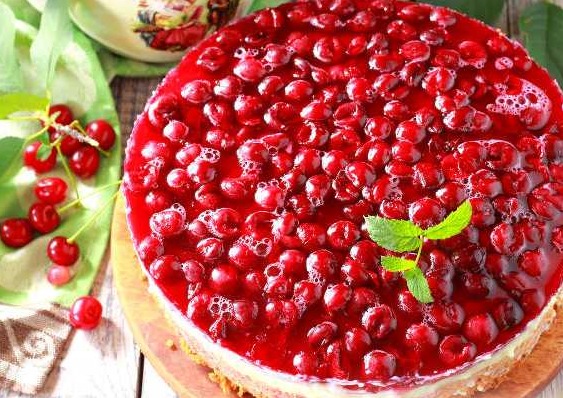 Servings:10
Ingredients
For the dough:
Sugar – 200 g
Butter – 200 g
Wheat flour – 200 g
Egg – 1 pc.
Baking powder – 0.5 teaspoon
For the cream:
Milk – 2 cups
Eggs – 3 pcs.
Sugar – 100 g
Pudding (dry) – 40 g
For filling:
Cherries – 300 g
Sugar – 100 g
Water – 100 ml
Gelatin – 15 g
Additionally:
Butter (for greasing the mold) – 10 g
Directions
Rinse the cherries, remove the seeds and cover with sugar.

Prepare the dough. Mash soft butter with sugar.
Add egg, beat.
Stir in baking powder and add flour in 3-4 doses. The dough should be thick and viscous.
Cover the mold (I took a split one with a diameter of 26 cm) with parchment, grease with butter, lay out the dough and flatten.
Bake a Tyrolean pie in an oven preheated to 200 degrees until golden brown for about 25-30 minutes, be guided by your oven. Then leave to cool right in the mold.

Prepare the cream. Mash the egg yolks with sugar.
Add milk and pudding (powder can be substituted with potato starch). Stir until powder dissolves.
While vigorously stirring, bring the cream to a boil and thicken, then immediately remove from the stove.
Once it has cooled slightly, pour it over the previously baked piece, flatten.
Stir gelatin in cold boiled water and leave to swell according to the instructions: instant – 10 minutes, normal – 30 minutes.
Then heat in a water bath or in the microwave until the grains dissolve, but do not boil. Pour the gelatin into the berry, stir and pour over the crust and cream.
Refrigerate until the jelly hardens, at least 3 hours.
Before removing the split mold, carefully walk the knife along the inner wall of the mold.
Tyrolean cherry pie is ready. Bon Appetit!
Also Like
Comments for "Tyrolean Cherry Pie"