Chocolate-Cherry Pie with Kefir
by Editorial Staff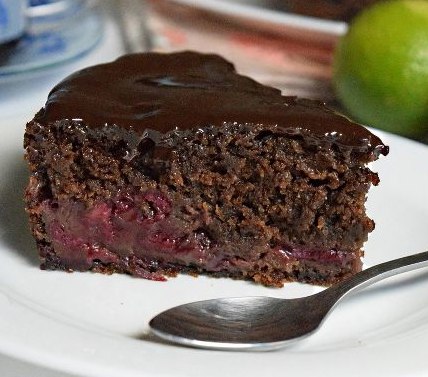 Today we will bake a chocolate-cherry pie on kefir using a multicooker, delicious pastries in a multicooker are available for everyone, you will see that this method is no worse than the traditional one – in the oven. We use frozen berries for the pie. Since you like kefir baking, recipes with photos, simple and tasty, will be very useful.
Cooking: 1 hour 40 minutes
Servings: 8
Ingredients
Cherries (frozen) – 400 g
Kefir – 200 ml
Vegetable oil – 130 ml
Water – 130 ml
Flour – 250 g
Sugar – 200 g
Cocoa – 75 g
Baking powder – 10 g
Bitter chocolate – 50 g
Cream – 50 ml
Instructions
Let the cherries defrost in room conditions a couple of hours before cooking.
Combine dry ingredients in one bowl. Sift the flour, add cocoa (it is better to use a powder product without any fillers), a spoonful of baking powder, and sugar. Mix everything well.
Let's take a liquid mixture. To do this, combine kefir, water, and vegetable oil. Mix with a whisk. Pour the liquid kefir mixture to dry products.
Mix everything and add the defrosted cherries. Be sure to get rid of the excess juice (using a colander), which was formed during the defrosting process. Stir, spreading the berries evenly.
The bowl of the device should be prepared: on the bottom, put a circle of food paper (this will very much help to carefully remove the finished chocolate cake), grease the inner sides with vegetable or butter. Layout the dough. Set the "baking" mode on the control panel. To make our cake completely baked, program a time of 1 hour and 20 minutes. After an hour, it is advisable to check the pie for readiness with a wooden stick and adjust the time, since it all depends on the multicooker in which you are cooking.
After the signal about the end of the program, let the cake cool in the slow cooker with the lid open. Then put the chocolate cherry pie onto a platter.
Decorate with chocolate icing. To do this, melt the chocolate and cream together. Let's cover the top of the pie.

After ten to fifteen minutes (the icing will cool down a little), the chocolate-cherry pie on kefir will be ready, and you can start drinking tea.
Also Like
Comments for "Chocolate-Cherry Pie with Kefir"